If you're trying to share a long, carefree life with your vivo smartphone, learn how to enable dark mode on it. Using dark mode will help you preserve the battery, extend the phone's life and reduce strain on your eyes. It's easy to do. Here are your how-to guides for vivo smartphone dark mode.
Dark mode used to be known as "dark themes." It was once a standard setting on every Android phone, but that's no longer the case.
Learning to enable dark mode will add to your enjoyment of any Android phone. When you use dark mode on vivo X50 or V19 Neo, you'll make these great phones even better and more fun to use.
What Is Dark Mode on Android?
Dark mode replaces the factory-set default Android theme, which is usually bright and colorful.
On most phones, you're used to seeing a colored background and colored icons. That selection of colors is called a theme. There are custom themes, personalized themes and themes that come standard with the phone. You may even have a theme you downloaded from an app store or a design company.
Some people like themes that relate to a particular set of colors. Other people use themes that relate to a specific topic, for instance, their favorite sport or a mountain scene. A mountain theme might show ski boots for the phone icon, a parka for the message's icon and a snowy mountain as the wallpaper.
If you have a theme on your phone, your display changes to match that theme.
What Is Dark Theme or Dark Mode?
In dark mode, your phone takes on a dark background. Usually, the background will turn black or dark gray. The icons will turn a dull color. Some apps will fade into the background.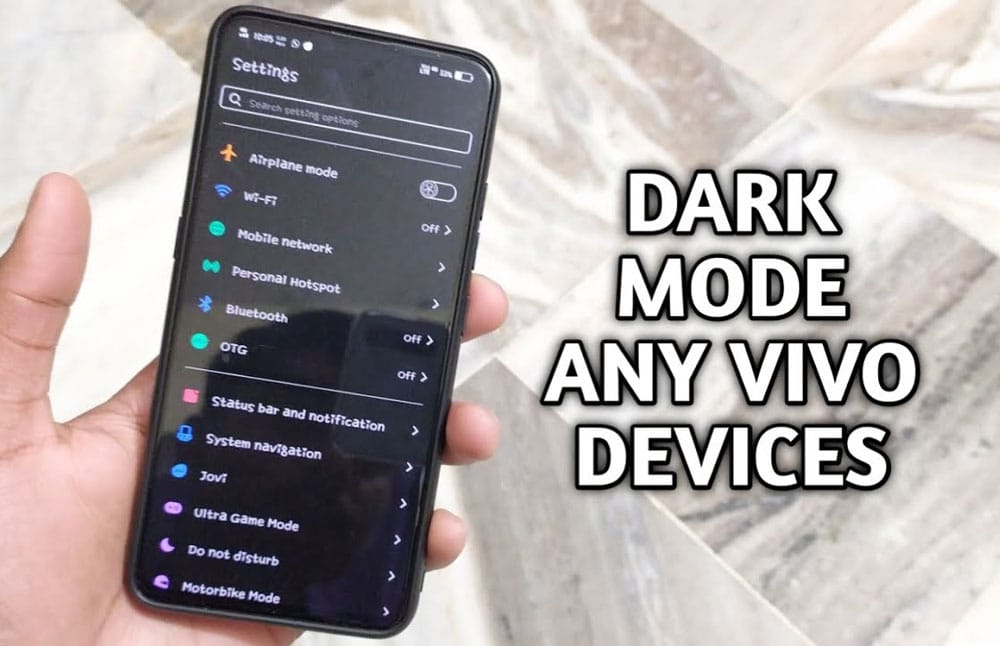 Why Do You Want Dark Mode?
You might wonder why you need dark mode. It is an excellent setting for anyone who's suffering some side effects of frequent phone use. Switching to dark mode can help you with the following.
See clearly: Some people find the darker themes easier to read. This is especially true in the evening or during other situations where the lights are low. If you're having trouble seeing your display clearly, try switching it to dark mode.
Save power: Have you noticed how your screen goes dark when your phone goes into battery saving mode? Using dark mode will help conserve power.
Extend your battery life: According to Digital Trends, setting your phone to dark mode can reduce your battery consumption by over 50%.
Prevent insomnia: Blue lights from phones and tablets will keep you wide awake. If you're trying to fall asleep after reading your phone, setting it on dark mode will help.
Avoid eye strain:

The strain from constantly looking at a blue screen can wear out your eyes. Some people report getting severe headaches from this eye strain.
How to Turn on Dark Mode on Your vivo smartphone?
Some smartphones have switched to gray or light brown as their dark mode. At vivo, we give you a true, classic dark mode with a black background. You can even schedule the screen to go into dark mode at a certain time of day or night. 
To change to dark mode on your vivo using these instructions, you must use a phone that has Funtouch OS 9 or later. Funtouch OS is vivo's version of the Android operating system. Older versions won't have a dark mode option. The current versions 9 and 9.2 correspond to the Android 9. vivo launched Funtouch OS 10 in 2020.
The vivo X50 runs on vivo's custom version of Android 10. This is a full-featured operating system with many upgrades. It has improved security features, better camera, improved graphics, better audio playback and fast, easy sharing between vivo phones. It comes with animated screens, child mode, shortcut functions, virtual assistant and other great features.
Steps for vivo X50 and V19 Neo Dark Mode
Go to the settings icon on your vivo smartphone.
Click on it and scroll down.
When you see "display and brightness," tap it.
You'll see a button that says "dark mode" and another that says "scheduled turn on."
You can choose "dark mode" if you want to turn it on right away. Just toggle the button to the "on" position.
If you prefer to schedule dark mode to come on later, select the "scheduled turn on" button. Enter the time you want dark mode to start.
If you want to enable dark mode on specific app, here's how to switch to dark mode.
Open your a specific apps.
Go to the "settings" of the app and tap it.
Scroll down until you see a setting about "display" Tap on that.
You'll see a toggle switch for "dark mode." Switch it to the "on" position. If the app support for dark mode.
It's Easy to Enable Dark Mode on vivo Smartphone
Now that you know how to use dark mode on vivo V19 Neo or vivo X50, it will only take you a few minutes to make the change.
Remember:
Dark mode is easier to read, causes less eye strain and conserves battery life.
Your vivo V19 Neo and vivo X50 have true dark modes with black backgrounds.
Our guides for vivo smartphone dark mode will work on any vivo phone that has an operating system of Android 9 or later. If your phone has an older OS, you may not have dark mode on it.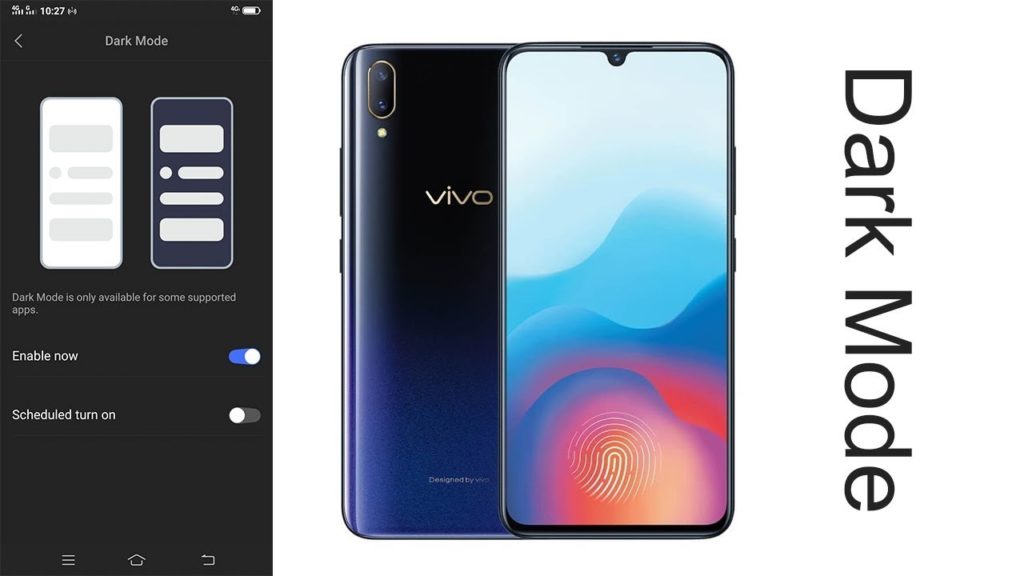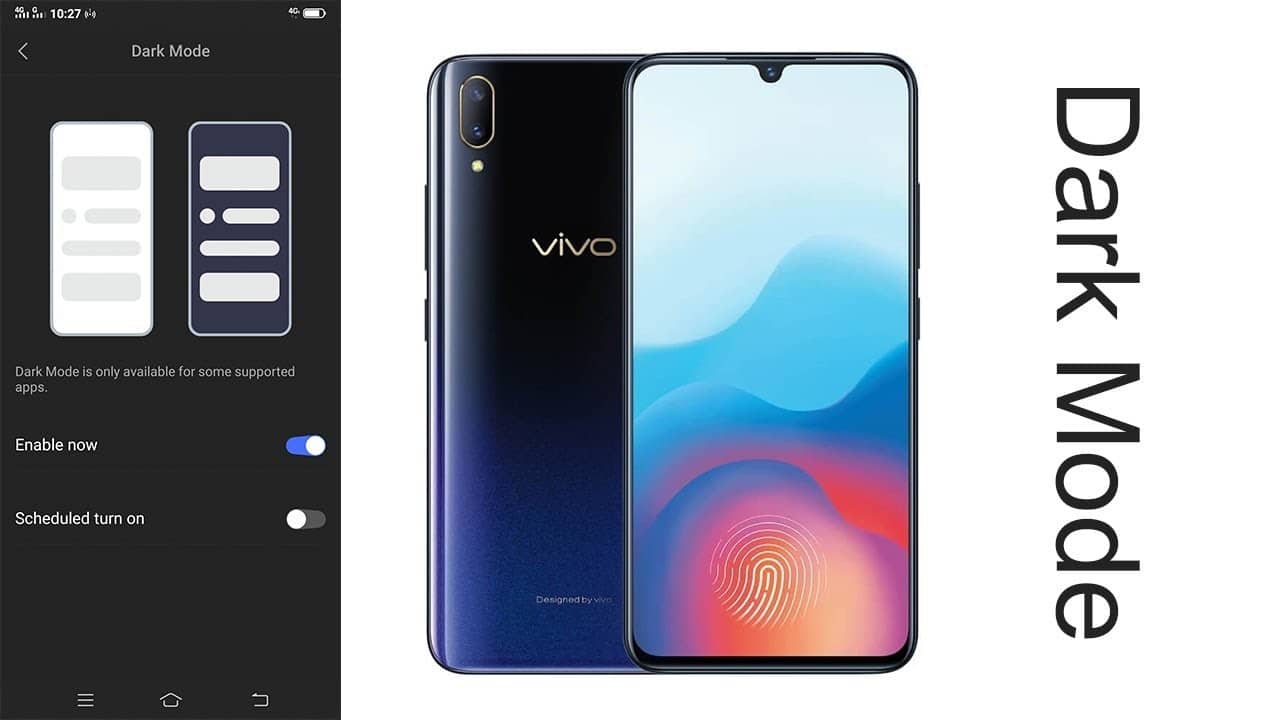 Are You Ready to Get Into Dark Mode?
We hope you found this guide useful. vivo smartphones are intuitive and easy to use, but you can always turn to the manual or one of our handy guides when you need help. Enjoy your vivo in any mode.