Let Jovi AI Rescue Your Day
The release of vivo's V23 line comes in conjunction with their latest vivo personal ai assistant. We use smartphones for more than communication-they represent entertainment, information, and organization.
The Jovi personal assistant elevates the use of a smartphone by offering tools that make our lives safer and more productive. Constant reshuffling of your diary is time-consuming- and Jovi aims to take a good chunk of this tedious work off your day.
vivo User Guide: Jovi, vivo's Personal AI Assistant
Personnel assistants play a real part in freeing up time in the day and taking on those more mundane tasks that are tempting to ignore. vivo's personal AI assistant, Jovi, is designed to help make each of those precious 24 hours more productive.
Everything-from alerts to reminders, appointments, and life choices-can go through Jovi to improve your lifestyle. Jovi can prevent unpredictable natural events from ruining your plans by giving you time to cancel and reschedule.
The AI can also guide you through online shopping, helping you avoid making poor purchasing choices.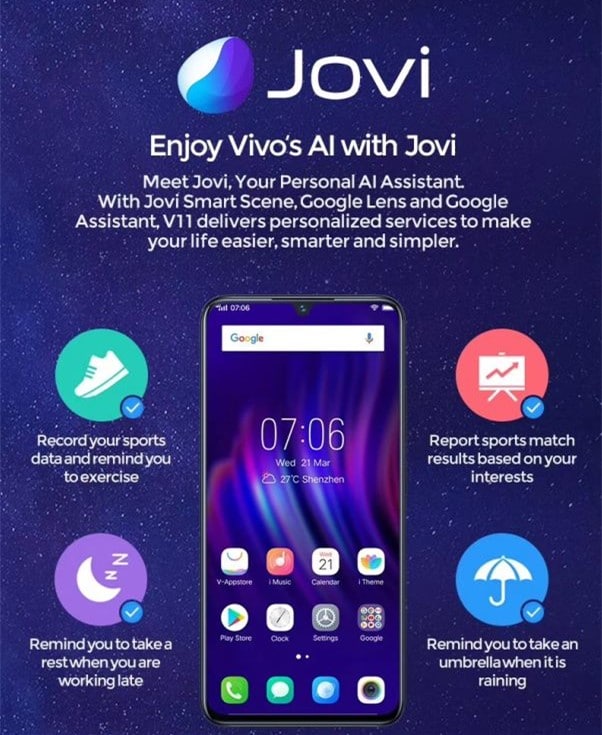 Using Jovi in Your Daily Life
vivo Jovi has capabilities that go beyond those that a single human personal assistant could perform. And the more you use Jovi, the better it understands the type of help you need.
Other ways of using Jovi in your daily life include: –
Ask Jovi to search online for products, directions, or restaurants. Jovi can tell you jokes and read out stories to you, your family, and your friends. You can even ask Jovi to open Apps on your phone and to play games.
vivo phones support Funmojis, which are AR Emojis that work in conjunction with the user's face-camera and microphone. The AI stamps the user's face onto a personalized 3D animated Emoji, which can then be recorded and edited for sharing or messaging.
vivo's health App keeps track of your daily exercise routines, sleeping habits, and diet. The App's Jovi AI studies your activities and can be set to create goals to get your body to where you want it to be in the longer term.
Jovi's AI can learn your work, travel, and activity calendar – and forecast impending storms that may ruin your trip. An advanced warning can inform you of dangerous weather before your flight – so that you have time to make alternative plans.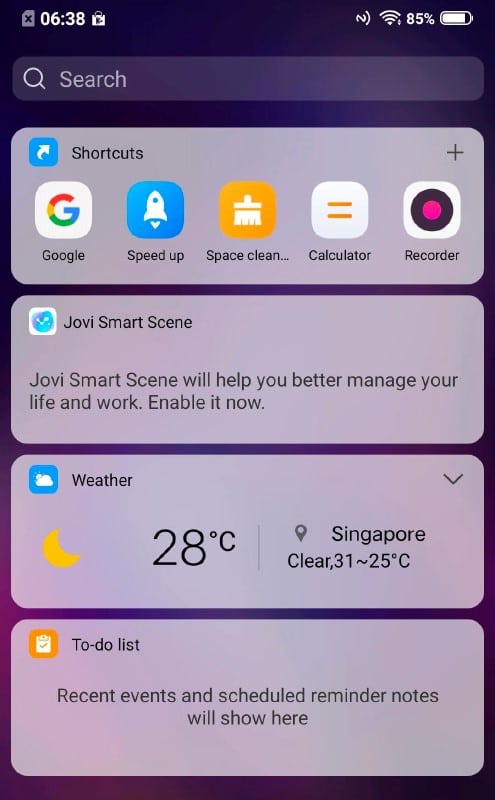 We often disregard our well-being during the daily rush between work and home life. Jovi can give you a gentle reminder to take a back seat and to go for a well-earned break during the day.
Stay current with your sports results and the most important announcements from your favorite teams. Be ahead of the game and get notified the moment a big sporting event is coming your way so you can get tickets.
Alerts via Jovi Smart Scene
The vivo phone personal AI assistant is for everyone and can be accessed through Jovi's Smart Scene. This is an AI helper with a difference and learns all it needs to about how you go about your day-to-day and weekly chores.
The AI in Smart Scene will recommend changes to your routine – so that you can get more done in a day. Smart Scene helps you make decisions and gives you options that may work out better than your current choices.
At the heart of Smart Scene is Jovi's own AI engine. This AI engine relies on the immense power and speed of the Octa-Core Cortex CPU, used in vivo's latest V23 line of smartphones.
This engine incorporates all information at hand to create one of the most efficient user experiences to date.
The increase in demanding games on smartphones can lead to serious lagging, and AI game mode aims to fix this. The program detects and pulls away processing time from other less-important Apps. And if you have a call, the AI will keep the game running in the background.
vivo: Jovi AI Works for You
Having an AI Assistant like Jovi is yet another reason for having a vivo smartphone. vivo wants to involve you in streamlining your day rather than relying on an immobile list of tasks and steps.
Use the speed and broad functions of your vivo 5G smartphone for more than simple calls and games. Your vivo phone has the power, so why not put it to work as your very own personal assistant.
Join the vivo movement and share us on any of your favorite social media platforms.