For most of us, social media, especially Instagram, has become an integral part of our daily lives. This is true now more than ever as our smartphones allow us to take photos that can often look every bit as good as those taken by professionals. However, with the overload of Instagram content, making your feed stand out is not easy. Using vivo photography phone features will equip you with all the tools necessary to draw attention to your feed and express your creativity in the best possible way.
What are Instagram Camera Tools?
Before employing the might of vivo mobile phone photography, you should get familiar with tools offered within the Instagram application itself. When you go to post on Instagram Story, you'll notice several options pop up in the toolbar on the left side of your screen. If it suits you better, you can easily move them to the right side.
Each of these options, or Instagram Camera Tools, provides a different option to spice up your Story. They include: Create mode, Boomerang, Layout, Hands-Free, Multi-Capture, and Level. I found them to be very handy as they make navigation easier and help me create more captivating, entertaining, and creative Stories.
Learning how to take good Instagram photo can go a long way in making your Instagram photos look like they were made by a professional.
Light is the key to making a good Instagram photo. If the lighting is just a little bit off, it can drain the life from the photo and make it look washed and flat. Whenever possible, try to use natural light instead of flash, even at night. It will add texture to the picture, create wonderful shadows, and make your subject look lively and energetic.
However, direct sunlight can be rather harsh, so you'll still have to be careful with it. The best time to use the sunlight is during the morning or early evening when the sun is low on the horizon and casts the softest glow. If you're shooting indoors, place your subject near the window and away from any artificial light.
There's no lighting solution that will suit every picture. So, it's best to learn through trial and error. Don't be afraid to experiment and play a bit.
Add Layers to Create Interest
Having your subject as the sole focus of the photo is cool and can add a minimalistic tone to your picture. However, adding extra layers will perk up the viewer's interest and make the picture more engaging. By combining various textures and objects in the background and foreground, the subject will pop up more and garner more attention. Of course, you don't want to clutter the photo, so use the focus to lead the eyes to the subject.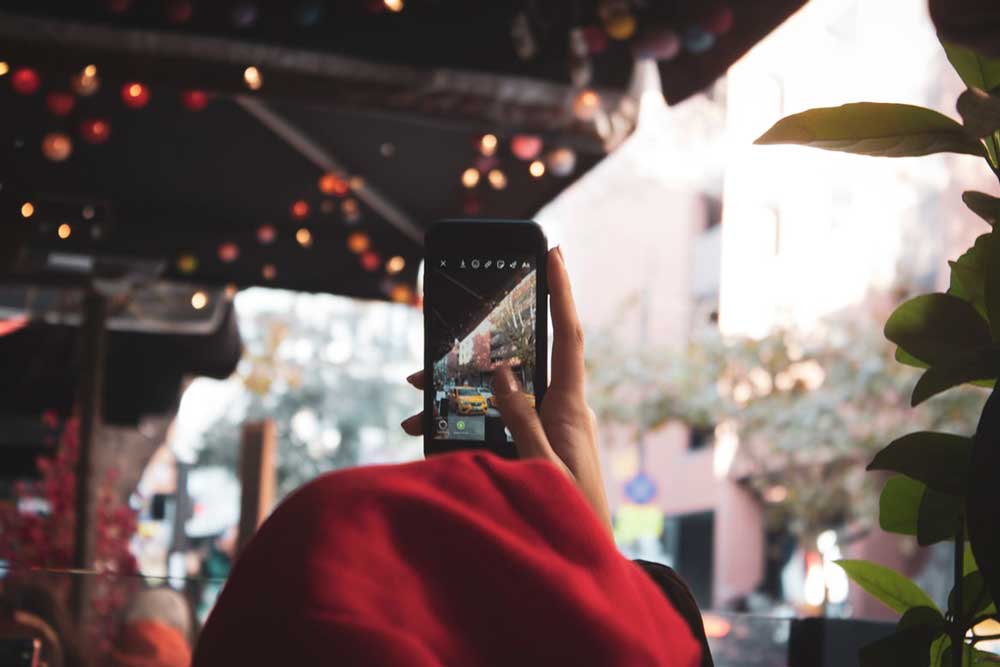 Use Continuous Burst for Action Shots
A single and stationary photo often doesn't do justice to some exciting event or a piece of action you're trying to capture. In these cases, I feel that it's best to have more photos to choose from. You can easily do this by utilizing the continuous burst mode on your smartphone camera. It will allow you to take multiple pictures that you can sort through to find that elusive perfect shot.
Utilize Rule of Thirds & White Space
One of the key lessons in every photography book is following the rule of thirds. By enabling the grid feature on your camera, you'll divide the frame with three evenly spaced vertical and horizontal lines, making it a 3×3 grid. This helps you create a more balanced picture by placing the subject at an intersection of these lines. A well-balanced picture allows the viewer to interact with it more naturally.
In addition, you can further isolate and put more focus on the subject by combining the rule of thirds with white space.
Gridlines can also help you create a perfectly symmetrical photo with a subject directly in the straight line of sight. Nevertheless, some of the best pictures are taken when you have some fun with the angles. I love experimenting with different vantage points and the result is often a more interesting and original photo.
vivo - Deliver Revolutionary Camera Experiences, Day and Night
The latest line of vivo smartphones makes everything I talked about above possible and easily accessible. Below are some of the vivo models that will help you turn your Instagram feed into a place of fun a beauty.
The vivo V23e 5g smartphone has everything you need to shine on Instagram. The 44MP AF camera will help you look your best self when taking a selfie. The sharp and clear resolution, along with the autofocus feature, ensures the best results no matter the conditions in which the photo is taken. You can also let your creativity run loose with a Multi-Style Portrait mode.
The rear camera is a beast, too. the phone houses a 50MP AF main camera, 8MP wide-angle camera, and 2MP macro camera. They work together to create pictures rich in color, details, and sharpness, even in less-than-ideal conditions.
The camera features and AI of the vivo V23 5g smartphone work together to bring out the best of you and create portraits of stunning details and clarity, no matter day or night. The phone features a 50MP AF front camera along with 8MP 105Super Wide-Angle Camera allowing you to enrich your selfies by adding more people or background or details into your photo.
On the back, vivo has placed a 64MP AF primary camera with 8MP wide-angle and 2MP macro cameras as support. This is more than enough to provide stunning photos even in the low-light with well-defined dynamic range and exposure.