The first thing that catches the eye with our vivo Y73 smartphone is its impeccable design. However, beneath the astonishing surface, it also packs plenty of power and a host of useful features making it one of the most interesting models currently on the market. In this vivo Y73 review, we'll dig a little deeper and take a closer look at what separates this phone from its competition.
64MP Ultra HD Photos - Every Moment in Utmost Clarity
Selfie enthusiasts will be more than pleased with the 16MP FF front camera. It's mounted in a waterdrop notch at the top which fits very nicely with the overall display design. The front camera can also be used to record vibrant 1080p videos or look your best while video conferencing. You can tinker a bit and liven up your selfies with some of the extra modes available, including Light Filters, Video Face Beauty, and Dual-View Video.
The rear camera is where vivo Y73 really shines. Besides 64MP AF f/1.79 main camera, The backside of the phone also features 2MP f/2.4 bokeh and 2MP f/2.4 macro sensors.
In addition, the camera app is stocked with various modes allowing you to get the best shots possible without the help of a photo editor. Plus, we equipped vivo Y73 with 4K video recording capability which is rare for smartphones in this class and easily puts it in the competition for the best camera phone 2022.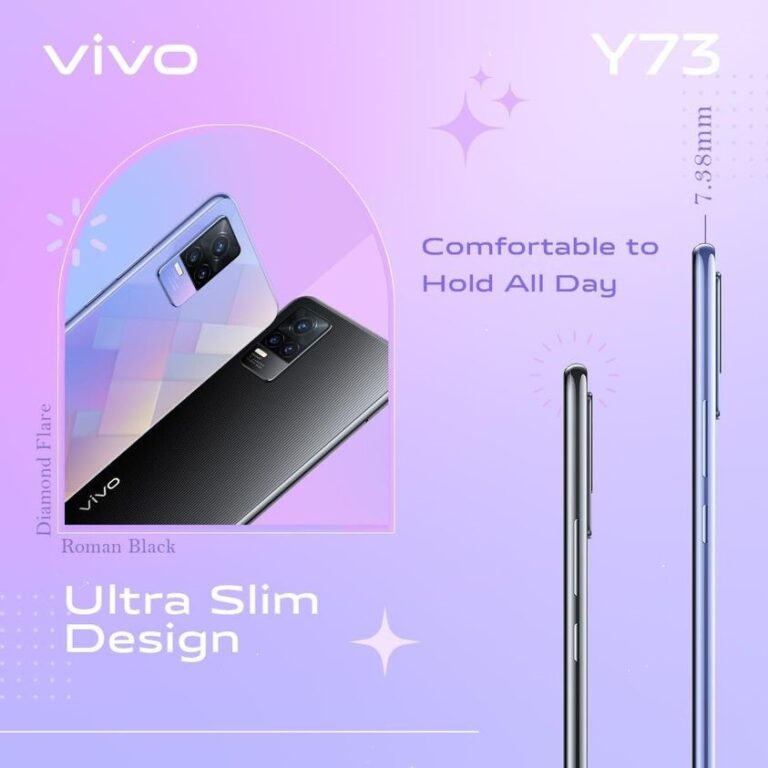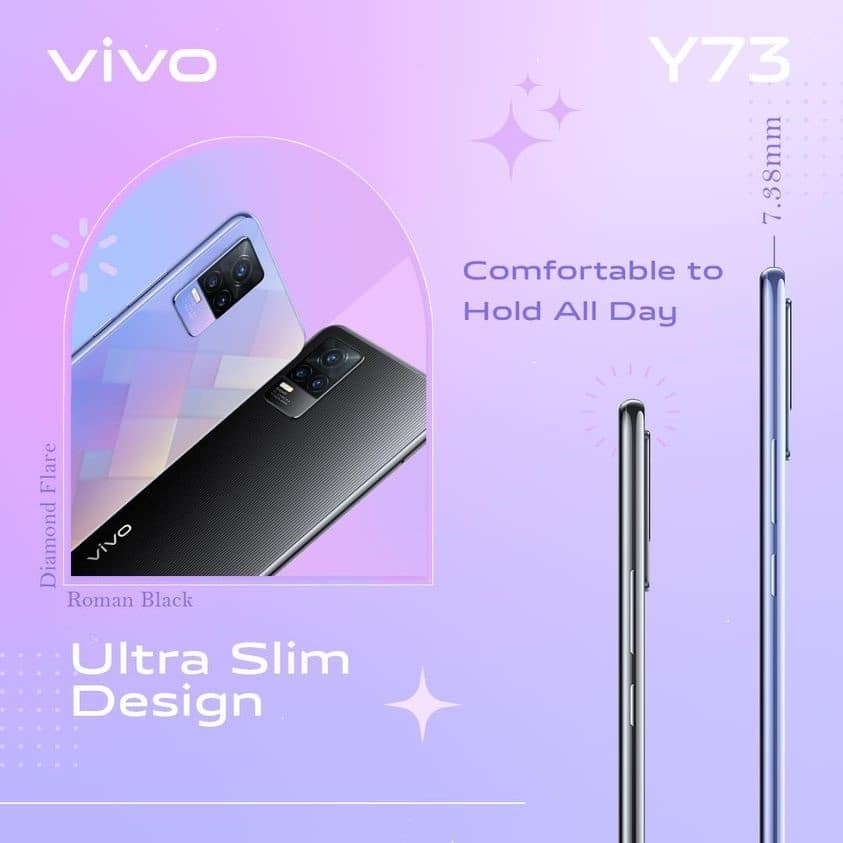 AI Super Night Mode - A Visual Treat Surprise You Mostly
Nighttime is when you can really experience all the might of vivo Y73 photography. Every picture taken at night will be sharper thanks to the AI-supported Super Night Mode. This feature comes with updated algorithms and takes care of noise reduction allowing you to take clear photos even in minimal light conditions. Furthermore, brand new City Night filters will help you perfectly capture the joy and vibrancy of a night out with your friends.
Ultra Stable Video - Stability that Inspires
For those who are always on the go and enjoy the action, we created the exciting Ultra Stable Video mode. It helps you create clear and steady videos no matter if you're running, biking, or skateboarding. Also, Steadiface Selfie Video mode keeps your face steady in the frame even when you're on the move, allowing you the freedom to go out and create.
Better Performance - Instant Gratification
To make the most of your phone, we equipped vivo Y73 with 4000mAh (TYP) large battery, allowing even heavy users to get through the day on a single charge. Besides, when in a pinch, you can use 33W FlashCharge which can refill your phone to 61% in only half an hour.
Under the hood, vivo Y73 features 8GB of RAM along with 4GB of extended RAM capability. As for the storage capacity, you'll have 128GB readily available which can be extended to an impressive 1TB, making sure you won't have to delete precious photos, videos, music, or games.
vivo Y73 is powered with the processor based on octa-core MTK G95 platform which brings a serious performance boost over the previous generation. It delivers more than enough power to run even the more demanding games without a hitch. For more punch, you can use the Multi-Turbo feature to improve game performance, increase response speed, and accelerate app activation.
For those who like to view the world from more than one perspective, Dual-View Video brings the possibility to capture the world around you using both front and rear cameras and tell both sides of your story.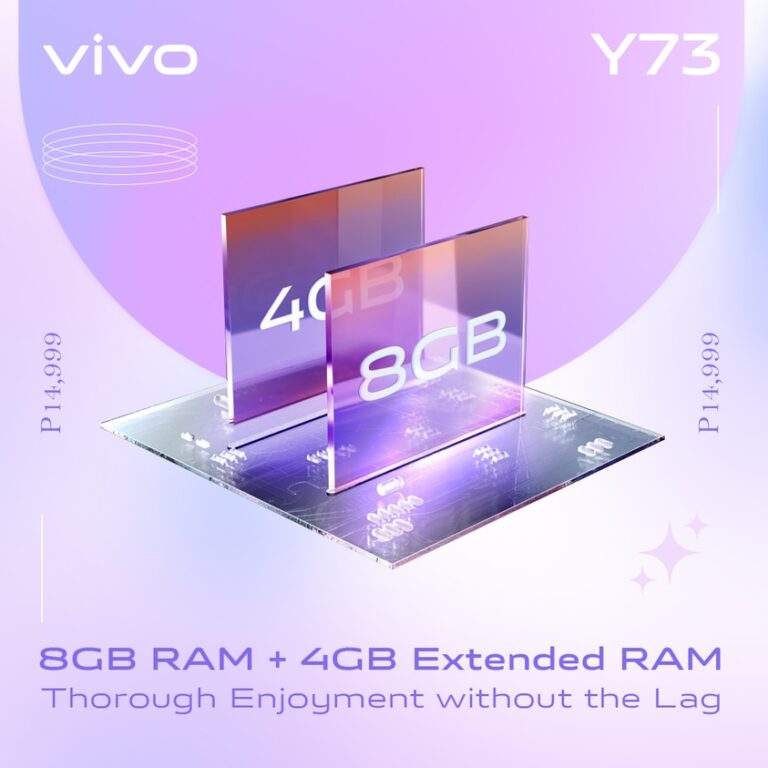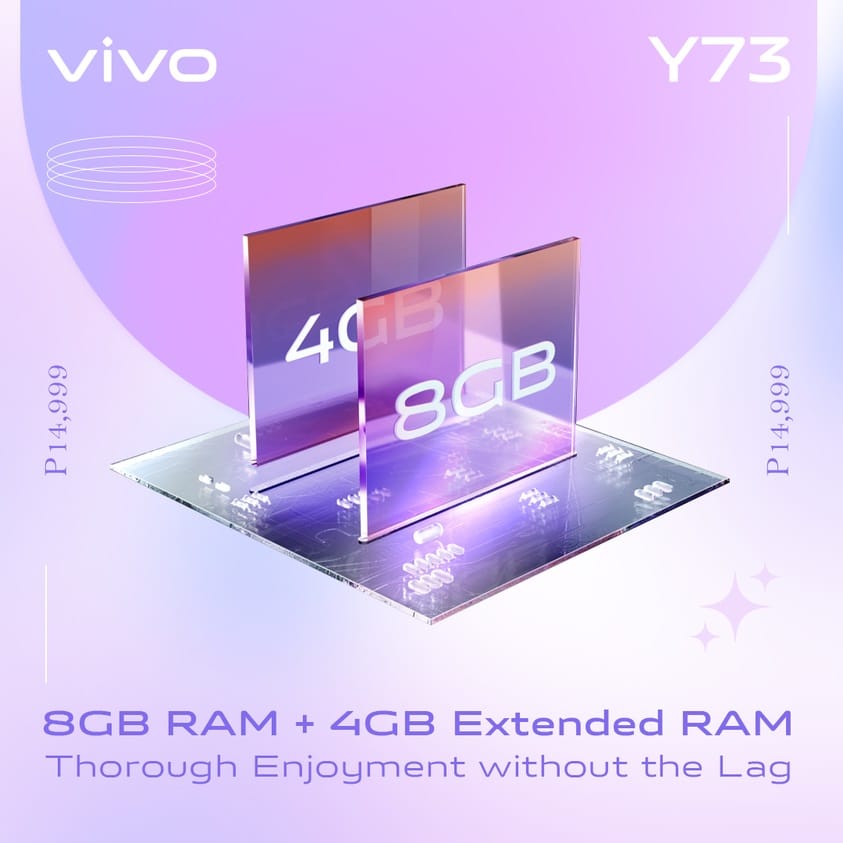 Ultra Sleek Design - Comfortable to Hold All Day
vivo Y73 is not only beautiful but also very practical and comfortable to hold even during long phone calls. It's ultra-thin at only 7.38mm and weighs a mere 170g. The textured finish on the back and slim structure make it very easy to grip.
The phone sports a huge 6.44-inch AMOLED display with 2400×1080 FHD resolution supporting a life-like color specter. It's kind on the eyes and provides bright and vibrant imaging.
You can choose between two color patterns for your phone: Diamond Flare and Roman Black. Both feature a unique and dazzling Dual Tone Step design.
The glass surface comes with Anti-Fingerprint and AG (anti-glare) features, making sure that your phone always looks its best. It eases your mind and makes the use more comfortable as you don't have to worry about the annoying fingertip marks on the screen.
What's More, Just for You
vivo Y73 runs on Funtouch OS 11.1. In addition to minimalistic and eye-pleasing aesthetics, the operative system is intuitive, smooth, and makes using your phone a fun experience, while allowing you to harness all of its power.
We also have to mention Jovi Home, a feature that will definitely make your life much easier. It's a fully integrated hub that allows you to control most of your phone features with ease through a simple card-style design.
vivo Y73 continues the company's tradition of offering elegantly designed phones with smooth performance and amazing photography capabilities. Our latest vivo phone 2022 offers much more than you might be used to in this price range, making it easily the best-buy option on the market.