Budget & Fashion is Possible - vivo Y12S is Your Best Choice
2.5D Dazzling Colors in vivo Y12s must surprise you with affordable price and shark design. vivo's incorporation of the stylish and fashion-sensitive design and its budget-friendliness makes the vivo Y12s the most sought-after smartphone, with users paying keen interest and wanting to know more about it. The
vivo Y12s
is priced at P6,499 only, but it being budget-friendly did not compromise the specs, and here are the reasons why
Because of an update of the vivo Y12, it has a greater screen size enriched with a better screen resolution. Its sleek design and dazzling colors complement its features, making it one of the best budget-friendly fashion smartphones available in the market.
The vivo Y12s has other feature that makes more than worth its price. Some of these features include the longer-lasting 5000mAh battery, the AI dual camera with the Bokeh algorithm, the face wakefeature, the multi turbo 3.0 for gamers, which will be further discussed later.
Review for vivo Y12s - Affordable for Everything
The vivo Y12s review focuses on aspects of the phone that make it a great budget-friendly smartphone and the elements that make the vivo Y12s stand out. These features include its stylish design, powerful battery, AI dual camera, and, most importantly, its budget-friendly price.
vivo Y12s' stylish design
If you want a great budget phone that's stylish, vivo Y12s is the perfect one for you. The phone's glacier blue colors play a subtle rainbow hue whenever light strike. It gives the phone a magical feeling that's both refreshing and romantic.
vivo Y12s' stylish design makes the phone look and feel like a premium device regardless of its affordable price. It also feels sleek and durable and doesn't feel cheap in any way. The stylish design works excellent for fashion-conscious people searching for a phone that matched their personal style and feels right in their hands.
vivo Y12s design integrates the phone's fingerprint scanner on its side, allowing you to power your phone and unlock it simultaneously. The fingerprint scanner takes a staggering 0.23 seconds to unlock the phone- a speed that's almost too fast to see.
You can use this fast fingerprint scanner to unlock your phone with ultimate ease. The unique unlocking technique makes the vivo Y12s look classy, stylish, and trendy. Plus, it manages to make user interaction nearly effortless. The side fingerprint scanner is not only functional but also trendy and sleek.
vivo Y12s is equipped with a 5000 mAh battery supported by AI power-saving technology, ensuring that your phone supports your daily activities. You can use the phone's single full charge and get up to 16 hours and 18 minutes of battery life while streaming HD video content.
You can also use vivo Y12s' battery for up to 8 hours and 54 minutes of resource-intensive game-play. On top of these, the battery is designed with a 5V/1A reverse charging capability allowing you to use your vivo Y12s to charge other devices.
The vivo Y12s' AI dual camera has a wide range of features that have been designed to help you with everyday use, such as face beauty and various other filters. You can use the 13 MP rear camera, with a large f/2.2 aperture, to take supper clear and detailed images. The vivo Y12s has an updated AI algorithm that produces the Bokeh camera effect. The algorithm adds depth and accuracy, making your image look livelier, creating more sophisticated results.
In addition to its modern side fingerprint scanner, the vivo Y12s has a face wake feature that unlocks your phone as soon as it recognizes your face. You can use this feature paired with the side fingerprint to access your phone quickly, straightforwardly, and intelligently.
vivo's exclusive multi-turbo 3.0 feature focuses on optimizing core screens, ensuring that games don't lag or stutter. You can use the multi-turbo 3.0; a feature engineered to prioritize and allocate CPU and storage resources, to help improve your gaming experience, especially when several other applications are running in the background.
vivo Y12s' iManager will help free you from tedious tasks that you had to take care of before, such as cleaning your phone's unused files, scanning for issues that may be affecting your phone, etc. You can set vivo Y12s' iManager to take care of these issues at night while you sleep.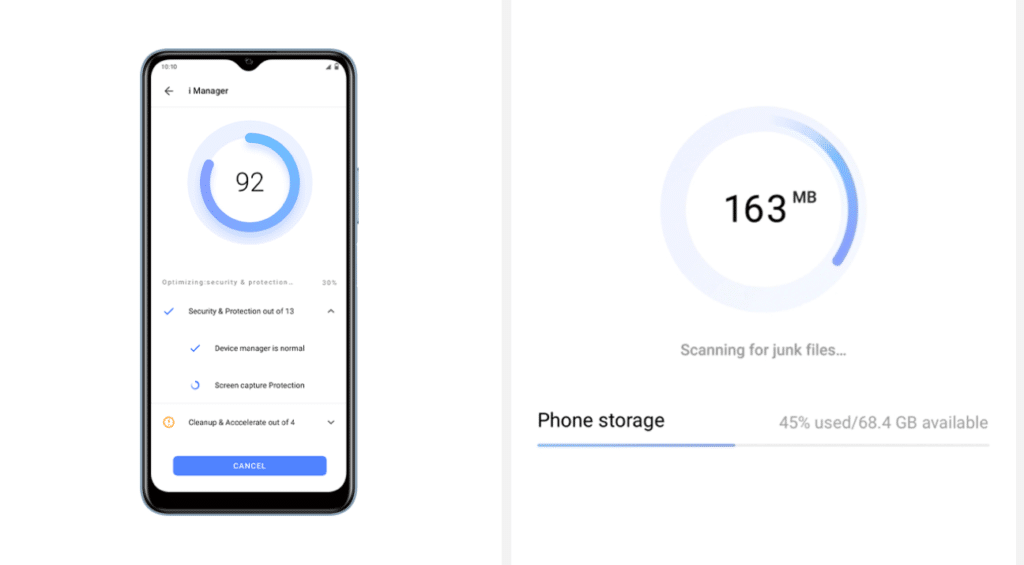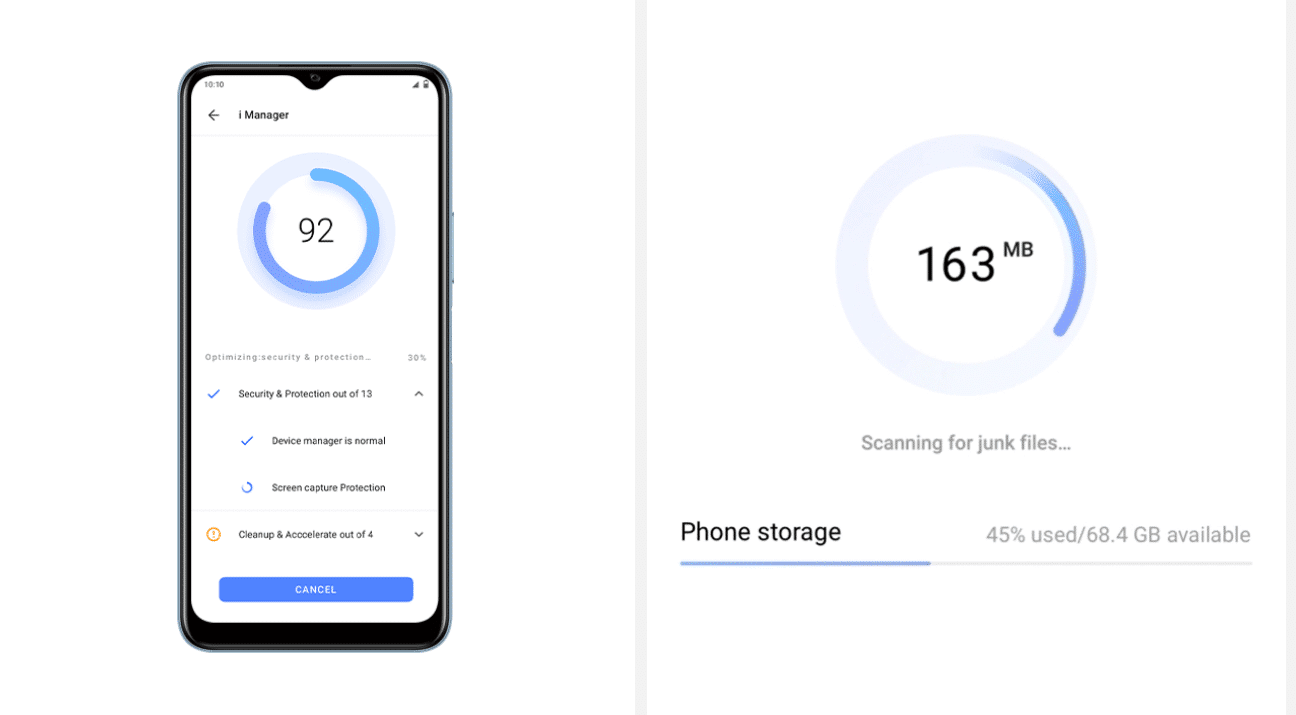 How to Transfer Your Old Phone Data to vivo Y12s
Android data transfer to your vivo Y12s
Prerequisite
First, you'll need to install vivo easy share to your old phone and your new vivo phone. Then, you'll need to ensure that both phones are charged at 80% and above and place them on a flat surface next to each other.
Procedure
Install the app on both phones and launch it. You'll get a splash screen guiding you through the entire process. If it doesn't do this automatically, tap on the top right corner of the app on the transfer icon. Tap the 'I'm Old' icon on your old phone and the 'I'm new' icon on your vivo phone.
You'll be prompted to select your old phone's OS. Choose appropriately; however, this app supports phones with an Android OS. Scan the QR code on your old phone using your vivo phone, and the two phones will pair.
Select the content you want to transfer and begin the transfer. This can take a few minutes or an hour, depending on the amount of data being transferred. It would be best to refrain from using your phone during this period.
Once the data transfer is done, you'll get an on-screen notification informing you that the data transfer is complete. You can then go ahead and start using your new vivo Y12s phone.
Transferring data using your PC
To do this, you'll need to back up your old phone's data and then transfer it to your PC. You'll then connect your new vivo Y12s to your PC and copy the shared data from your PC to your new phone, and press restore. This is the easiest and most effective way to transfer data from a different model android phone to your vivo smartphone.
iOS data transfer to your vivo Y12s
If you were using an iPhone before buying your vivo Y12s, you can use 'easy to share' to copy data to your new phone since iPhone puts lots of restrictions on data transfer. You'll need the app on both phones.
First, open the app and open the' old phone tab' on your old phone and the 'new phone tab' on your new phone. You'll then use your new phone to scan the QR code on your old phone. You'll get a list of files that you can then copy to your new phone. You can press 'done' on both phones if you are all set.
iCloud backup data transfer to your vivo Y12s
Download and install sync iOS data transfer and then launch the iCloud transfer for the vivo Y12s. Next, you'll see the program's menu with the options: transfer, restore, and backup. Select restore and choose 'from iCloud backup.'
Log into your iCloud account and download the backup. You'll see sync iOS as an option in your iCloud backup. Select accordingly and press download. The program will display the backup file in your window, where you can pick it and restore it by pressing on "start copy" to transfer data.
If you want a budget-friendly fashion smartphone, don't go any further. Our vivo Y12s Review provides you with all the reasons why vivo Y12s is the best budget smartphone currently in the market.  Has sleep design, dual camera, stylish side fingerprint scanner, and long-lasting battery, you can get all these with vivo Y12s at an affordable price.