A Smartphone for Portrait Enthusiasts
Are you into vlogs or photography? We agree that with that creativity in this time and age is overflowing most especially with the technological advancements that are happening in the mobile industry. And you just have to keep up!
vivo recently launched vivo V21 5G, a  selfie-focused and camera feature-rich smartphone that guarantees users a better and professional photography experience.
We compiled an in-depth review of V21 series 5G to show you why this smartphone is the latest game-changer in the mobile photography industry, particularly among selfie enthusiasts.
This latest device in our longstanding V-series smartphone promises user-friendly, expert-grade camera features allowing users to take professional-looking portraits in a snap priding itself as the master in portrait photography.
vivo V21 5G
Real game-changer for selfie enthusiasts
How vivo V21 Became the Portrait Master
Dubbed "the new portrait master", the V21 series provides users with top-notch features such as Dual Selfie Spotlight, Ultra-Stable Selfie Video, and Dual-View Video. We tried it out and we are sharing  our first honest experience with the vivo V21.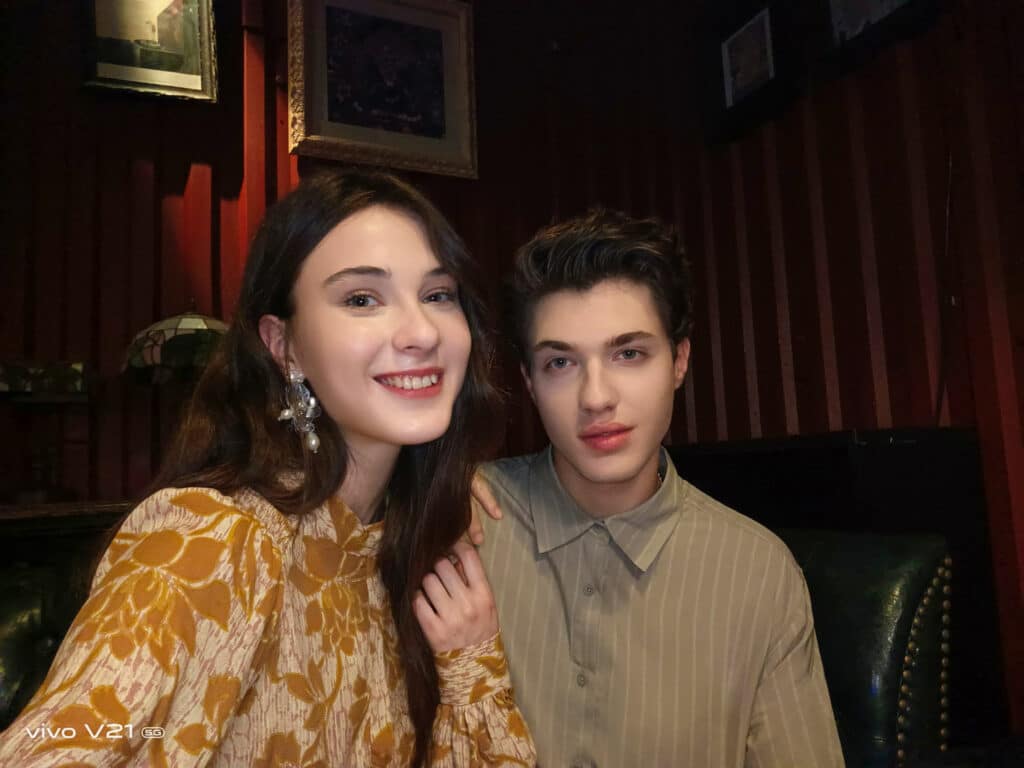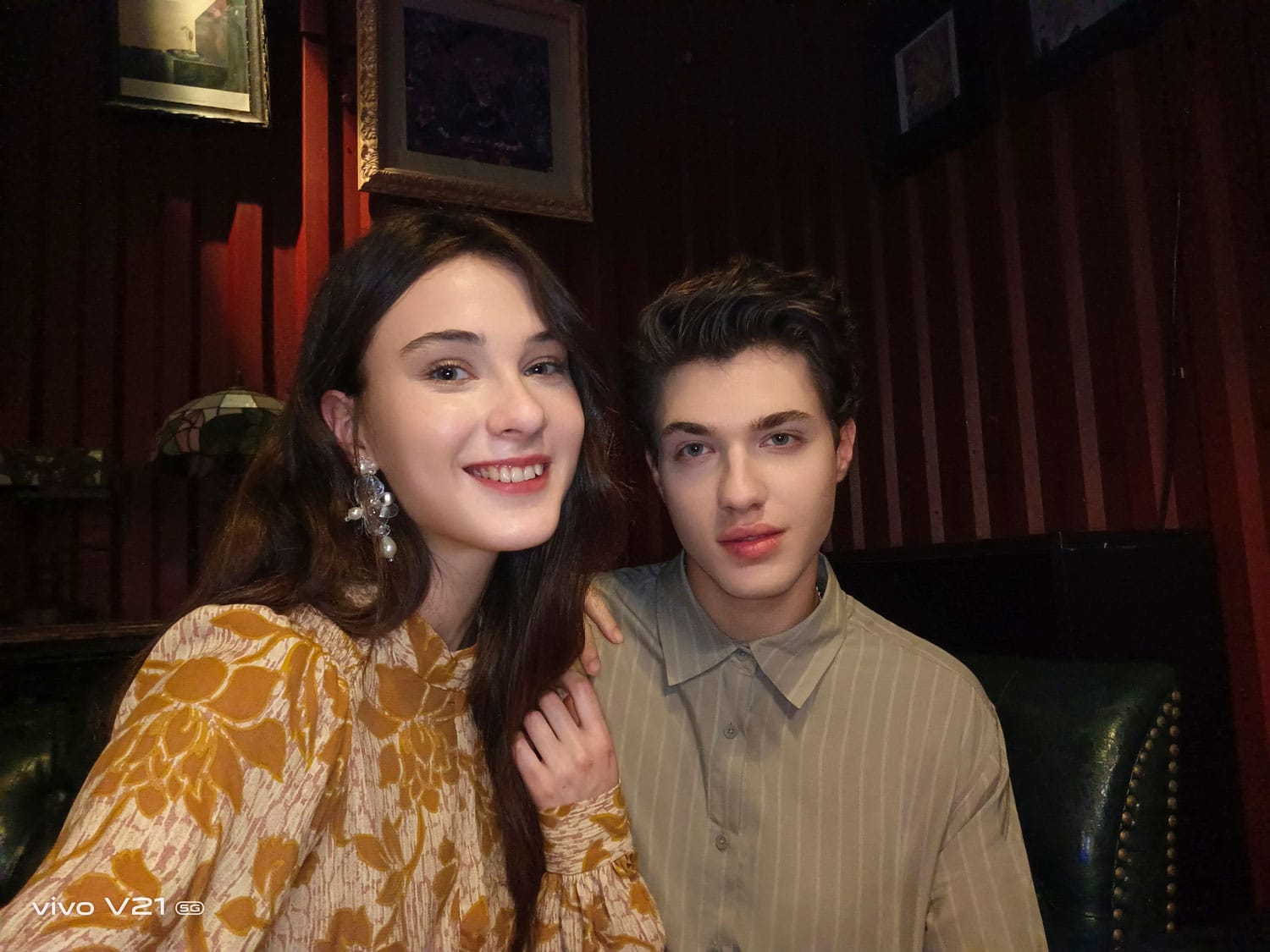 The features above anchor on vivo's dependable 64MP OIS Night Camera and its 44MP OIS Self-Portrait front cam. The V21 is specifically designed for portrait mode and is taking the phone industry by storm.
The rear 64MP primary lens is coupled to a multi-functional 8MP lens for Wide-angle and Bokeh shots. This phone is also equipped with a 2MP macro lens for close-ups.
The vivo V21 5G can click impressive images with maximum clarity, precise colors, and outstanding details. The setup also guarantees users Optical Image Stabilization (OIS) to improve blurs caused by camera shakes and enhance photo quality even in low light. Furthermore, the Electronic Image Stabilization (EIS) complements the OIS, allowing for slower shutter speeds and extended exposure time.
The V21's selfie camera is also coming with tones of options for you to explore, such as maximum brightness. In addition, the phone is also fitted with two built-in flashlights, which vivo calls Dual Selfie Spotlight.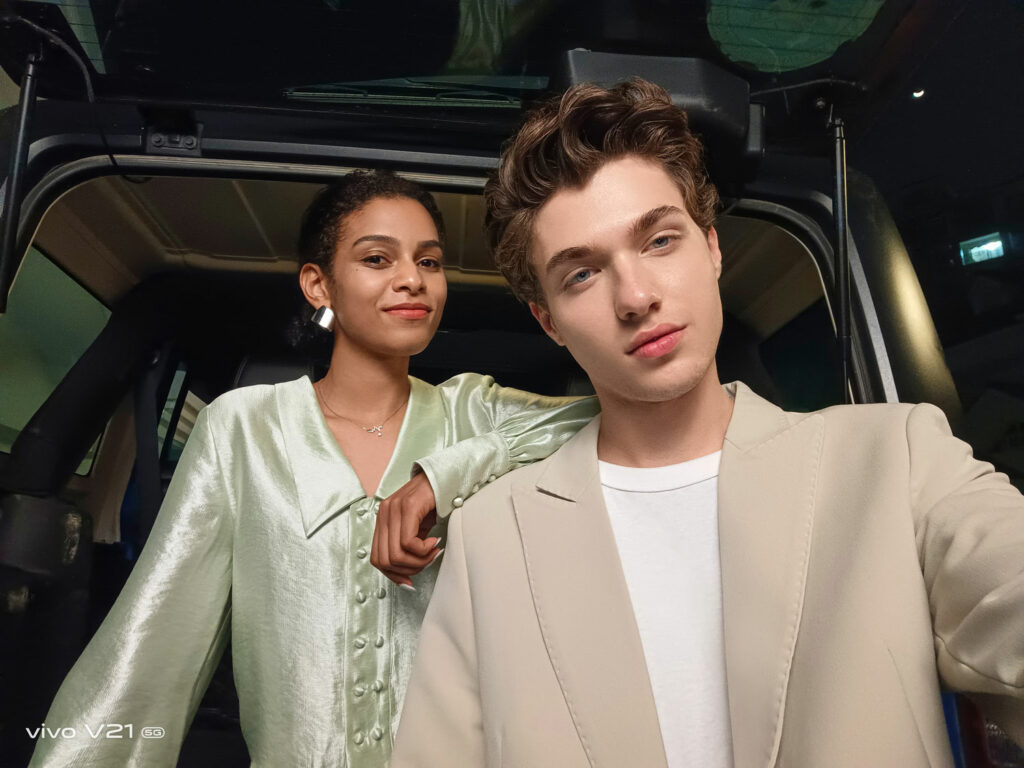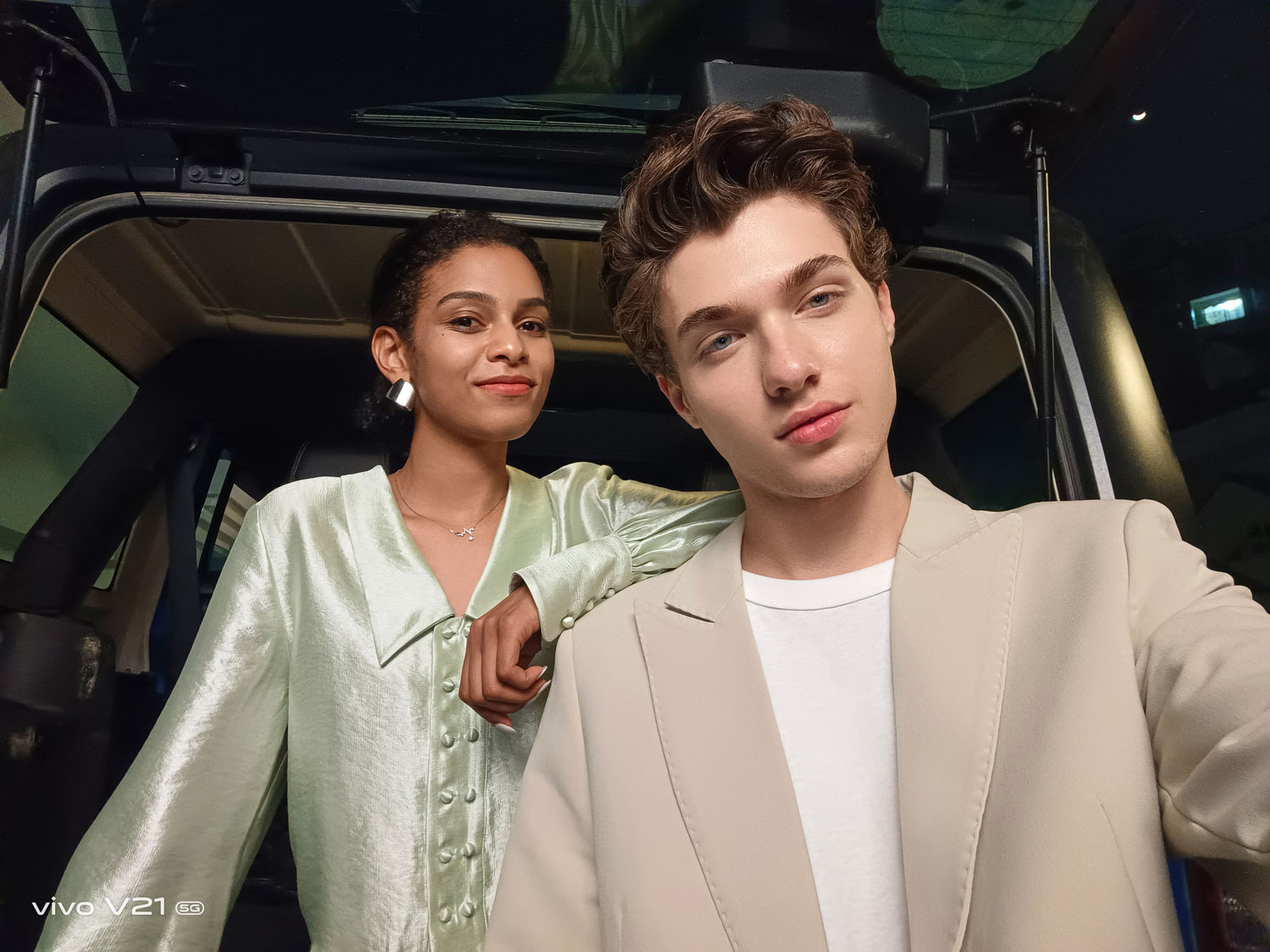 This selfie smartphone can guide you on how to take superb selfies using outlines that shows poses on how you take a great selfie. The rear camera comes with three different lenses you can choose from and is really good, especially if you are under sunlight.
Other functional camera features include Eye autofocus that can give distant subjects in the image a more portrait look. Moreover, you can record your videos from the back and front simultaneously via the vivo V21 with its Dual Camera View
Overall, the vivo V21 5G is definitely your next selfie smartphone of 2021.
5G and Stylish Body-vivo V21 is also a High-tech Artwork
vivo V21 5G is a stylishly designed smartphone. It is ultra-thin, measuring 159.7* 73.9* 7.3mm at 176 grams. It has a plastic back, plastic frame, and glass front.
The smartphone looks are premium and refined to the highest quality, coming in three color gradient options, Arctic white, Dust Blue, and Sunset Dazzle – which we are highly impressed of. In addition, it comes with a matte finish, eliminating common problems such as ultra-reflective backs or fingerprint smudges.
Moreover, the V21 features a waterdrop selfie shooter, a USB Type-C port, and an extremely thin bezel.
The phone has a 6.44 inches AMOLED display screen size and its sleek design just feels good in the hands. It is super huge owing to a design that stretches the panel out to the phone's edges.
Battery-wise, our vivo V21 is an "all-day phone" featuring a 4000mAh. It also charges quickly, thanks to its 33W fast charging support.
Once you power up the device, you are welcomed by a 94Hz refresh rate. In addition, it features a 2400*1080 pixels resolution and 500 nits of peak brightness. All these features offer a bright and superb display even in broad daylight.
The top-notch AMOLED displays come with an HDR10+ certification and a 20:9 aspect ratio.
Over the years, vivo has successfully gained a milestone in trying to develop its independent operating system. The vivo V21 runs on Android 11 with Funtouch 11.1. Aside from the OS, the vivo V21 5G utilizes a 7nm MediaTek Dimensity 800U chipset for processing power.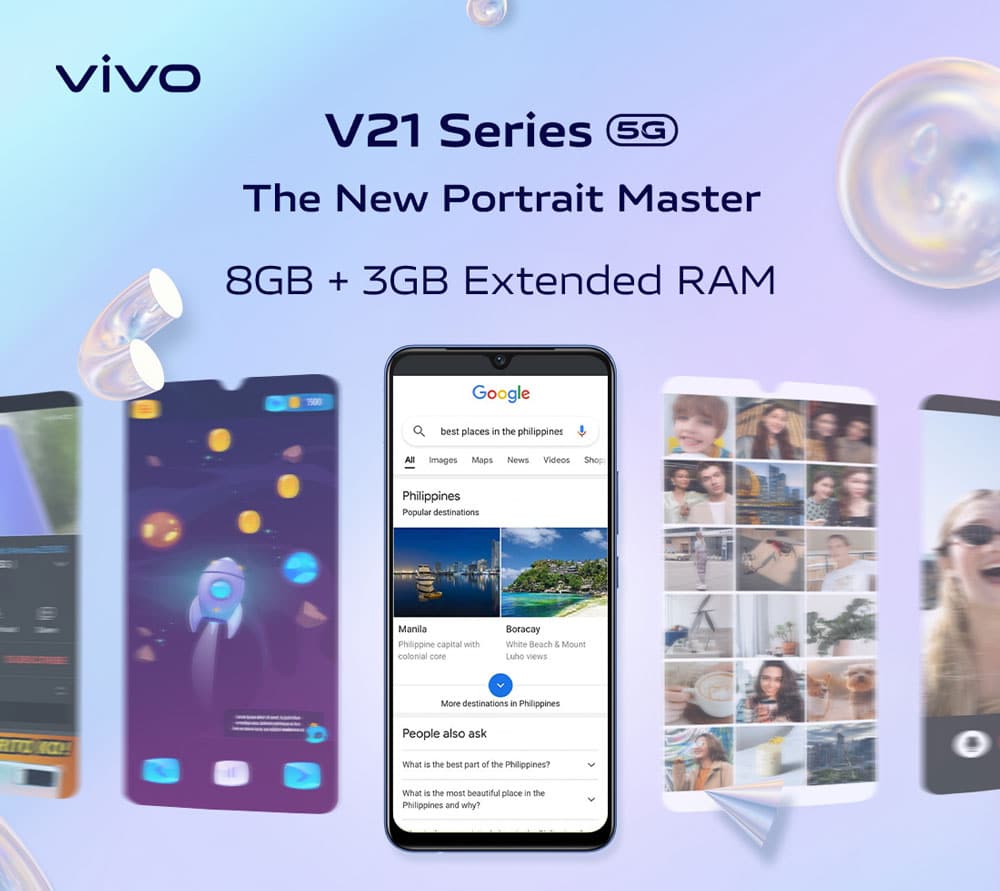 As a selfie smartphone 5G, it promises fast app load times and better connectivity. We tested the speeds and can sufficiently vouch for this smartphone due to ease of operation.
To improve performance, vivo added an extendable RAM capability on the V21. This tech makes the 12GB RAM function like a 15GB RAM and the 8GB RAM variant like an 11GB RAM smartphone.
The vivo V21 also has 128GB of internal storage. It is a great phone but might not tick some boxes, especially for hardcore gamers. Yes, you can play graphic-intensive games, but we noticed that the V21 might not allow you to max out some settings, which might be a dealbreaker for some individuals. However, it is still great for casual games.
vivo V21 5G Launched in the Philippines
The vivo V21 5G is a leading Night Selfie Smartphone with the latest camera features. Collectively, these features give users a unique experience. We used the vivo V21 camera for portrait modes and can confidently attest to its superiority. If you are making photo content, the V21 smartphone is designed to provide excellent camera features and functions that guarantee clear and crisp photos.  
With an impressive 4000mAh battery life, you can take photos and record videos all day. The 8GB/12GB plus the RAM extension capability encourages fast loading speeds and reduces any lags regardless of how heavy your phone usage is.
For more in-depth information on the vivo V21, including pricing, check vivo's official website and follow us for more on the V-series.