With the advancement of the smartphone industry, people's focus has shifted toward powerful devices which prioritize speed and performance. Regardless of whether you want to run multiple apps simultaneously, play games, or handle calls and messages – it all relies on an effective processor and enough memory. While there are many devices to choose from, most of them steer towards the expensive side.
Contrary to popular opinion, there is no need to break the bank in order to get a high-performing device. At vivo, we perfected the recipe for a perfect balance between performance and price. Our newest introduction – the vivo Y21T – is a testament to that.
The crystal clear display which boasts a 1600×720 HD+ resolution is accompanied by a 90Hz refresh rate to provide the smoothest possible experience. Its sizeable Halo display is stretched across the whole screen, giving it an impressive 89% screen-to-body ratio.
The built-in Eye Protection mode filters out blue light and helps prevent eye straining during prolonged use as well as sleep interference. For improved customization, users can choose between three different color temperatures: cool, default, and warm.
vivo Y21T combines an octa-core CPU with 4+1 GB of RAM, all powered by a massive 5000mAh battery making it excel both in everyday use as well as gaming. Integrated Ultra Game Mode and Multi-Turbo 5.0 settings will prevent your phone from overheating and boost performance by allocating all of the resources to the game itself. The AnTuTu is a testament to the improvements, with a 20% score increase compared to our previous generation of phones.
While its performance can be compared to even some of the flagship devices, the vivo new smartphone belongs to a whole different price category. At ₱10,999, it is arguably the most effective mid-range smartphone in the Philippines. With many features that rely on preserving battery health and keeping the internal components working at the perfect temperatures, this smartphone will be your perfect companion for years to come.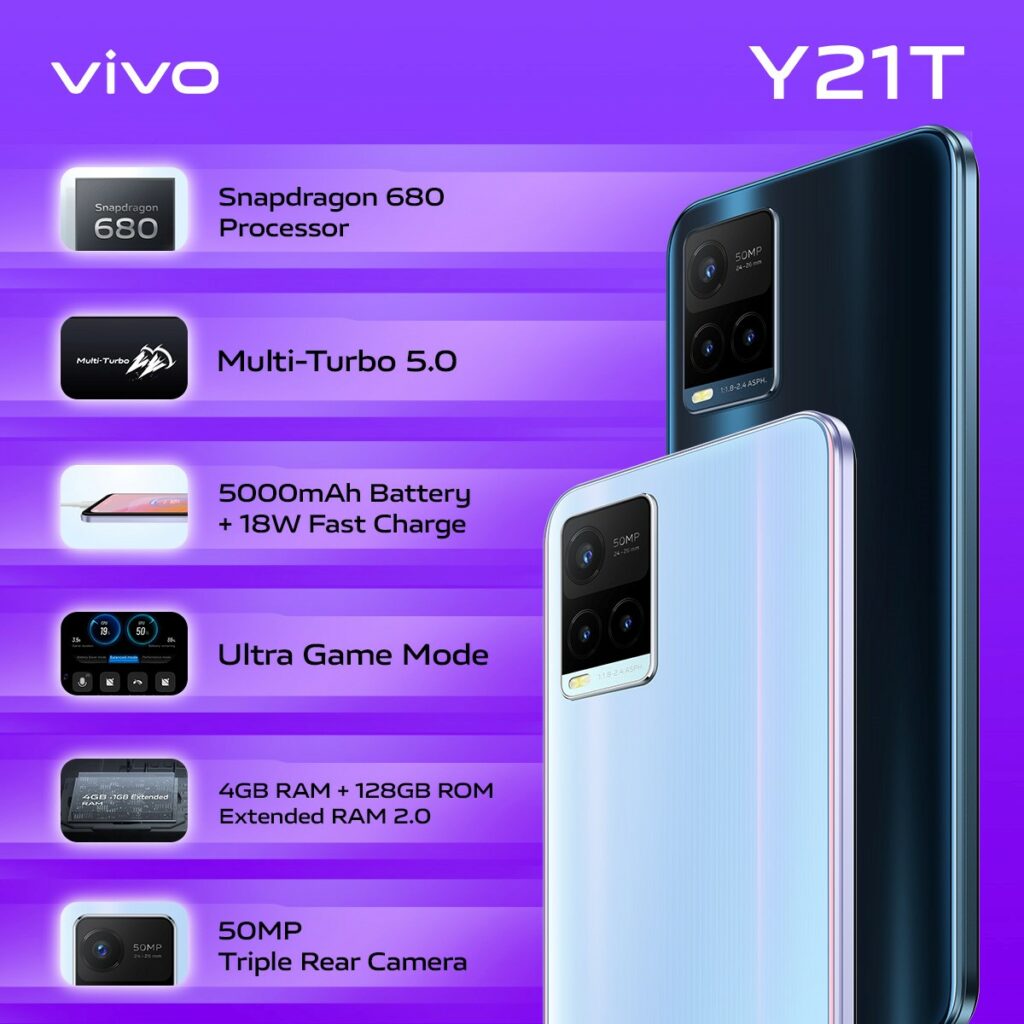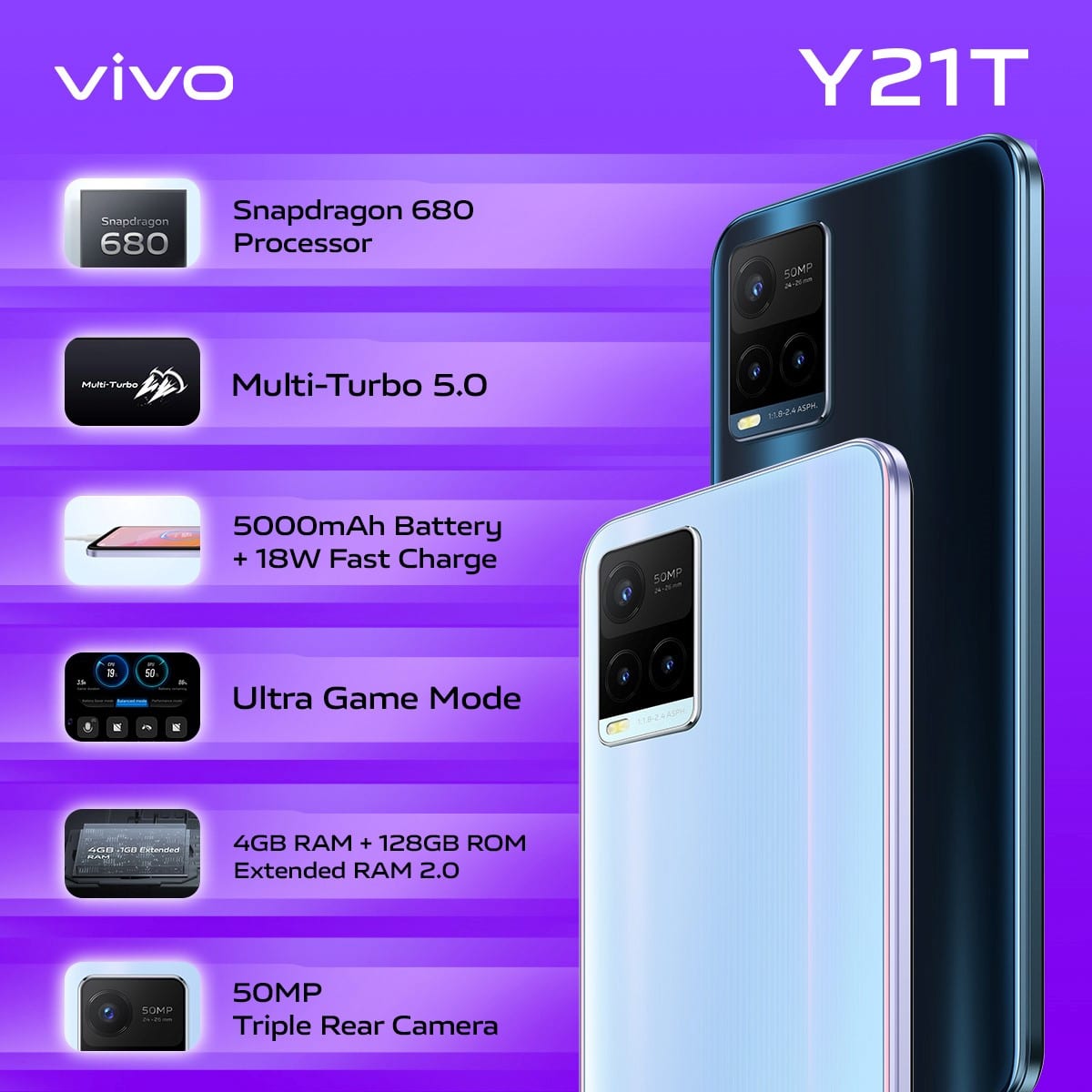 5 Ways vivo Y21T Takes Speed to the Next Level
· Qualcomm Snapdragon 680
This high-end octa-core processor is clocked at 2.4GHz, while combining a Kryo 265 CPU and Adreno 610 GPU to provide a powerful yet efficient output. The optimized gaming experience is made possible with Game Jank Reducer and Q-Sync, which automatically synchronize display refresh rate with the game's frame rate to provide a stutterless experience.
Previously, Snapdragon processors were considered to be a luxury of high-end, expensive smartphones. Today, we made it possible for everyone, regardless of their budget, to get one of these. Not only is vivo Y21T the first smartphone in the Philippine market that features a Snapdragon 680 – but it is also the first of its kind that belongs to the mid-range.
During resource-heavy tasks, the built-in 4GB's of memory can be boosted with up to an additional 1GB from the internal storage. When you're running a lot of apps at the same time or playing games, vivo Y21T will transfer unnecessary temporary files to the internal memory and give the game more RAM to work with. Once you're finished, all of the files will be transferred back – this means that all of your apps will be resumed from exactly the same place where you left them at.
The expandable virtual RAM feature is still a rare occasion, even among expensive smartphones. We brought down that barrier, showing that it is possible even without sky-high prices.
· Multi-Turbo 5.0 Functionality
As its name suggests, Multi-Turbo 5.0 is a combination of different Turbo settings: AI, Game, Center, and Cooling Turbo. We developed it in an attempt to maximize the phone's ability to handle heavy tasks by optimizing core scenes and prioritizing the CPU for the task at hand. The vivo Y21T turbo speed combination is made even better through AI that learns and improves with every new scenario that it encounters.
Furthermore, if you're playing online games and the Wi-Fi connection starts to stutter, it can automatically switch to mobile data to ensure smoothness.
· 6nm Chip and Improved Quick Charge 3.0
The tiny 6nm architecture of the chip provides outstanding performance with reduced power consumption. Alongside the 20% battery performance improvement, the support for 18W Quick Charge 3.0 means that you can get up to 80% of your battery back in just 35 minutes of charging. Benchmark results have shown that the vivo new smartphone offers almost 10 more hours of audio playback as well as 30 additional minutes of video streaming.
· vivo Energy Guardian (VEG)
The battery is usually among the first components to degrade on a smartphone – vivo Energy Guardian prevents that from happening. When you're not using the phone, VEG switches to standby mode to reduce battery usage. In addition, the smart energy consumption prevents vivo Y21T from overheating, ultimately preserving battery health.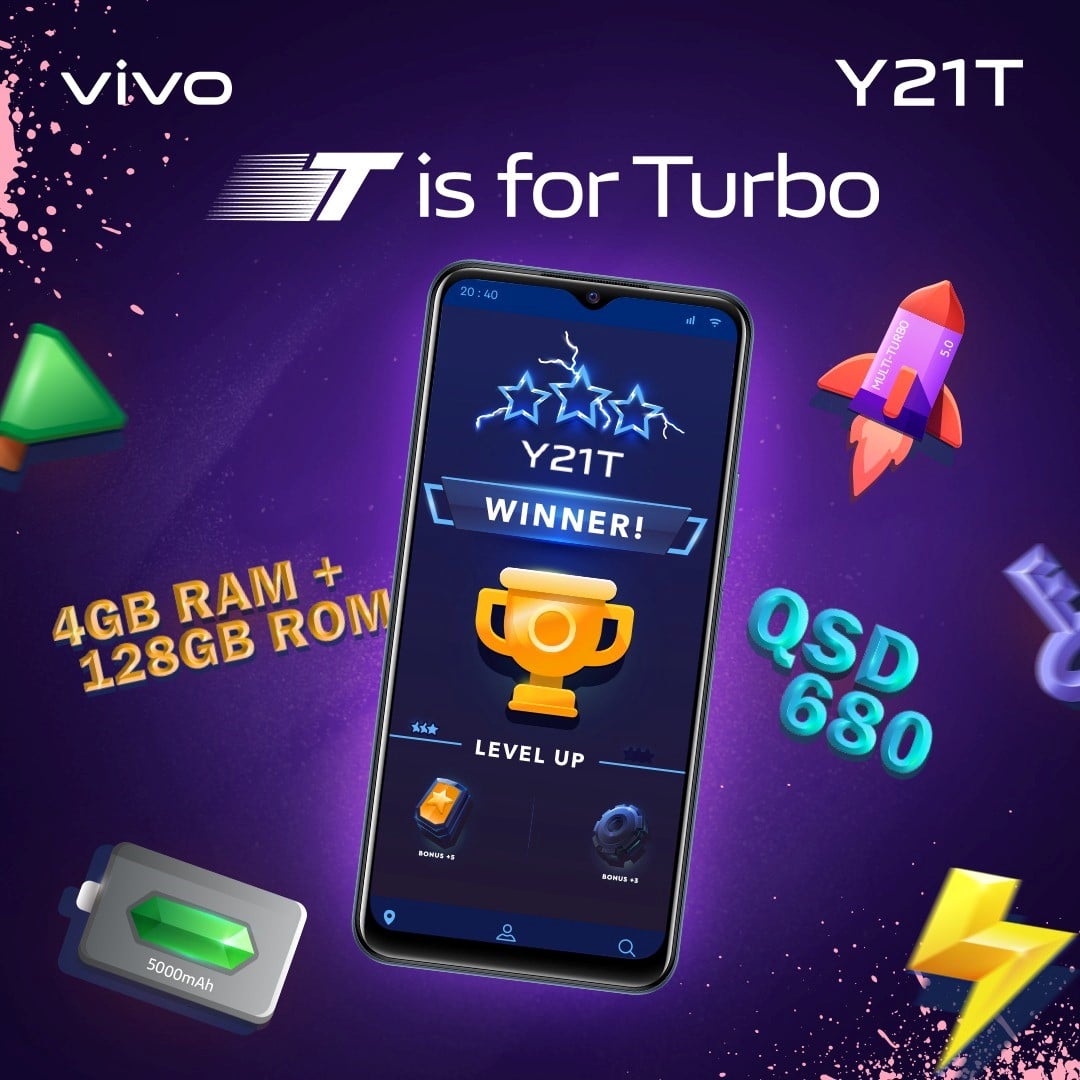 The state-of-the-art processor, cutting-edge extended RAM technology, and a massive battery to encompass the whole package make the vivo Y21T a game-changer. The whole experience is accompanied by an attractive, modern design with a sharp display that will keep you entertained with your favorite game or app for hours on end.
All of the hardware is enhanced by thoroughly tested software that will provide you with a clean and simple-to-use interface. No matter what your budget is, the affordable price allows everyone to join the vivo movement and experience smartphones in a whole new light.
Be the first one to discover novelties, receive how-tos and other useful tips. Learn how you can further enhance your experience with vivo devices from an official source. Become eligible for exclusive deals and discounts today by signing up for our newsletter and becoming a part of the vivo movement.