Mobile photography is here to stay, not only because the camera on our smartphone is what we use the most for our pictures, but also because these cameras are getting better and better. Our vivo X70 series is one of the best examples of this, since in addition to versatility, portability and ease of use, they also include the most advanced technology, so you can get high-quality photos, even when it comes to action photography or motion photography.
If you're a fan of smartphone photography, this guide will teach you the essentials to consider when taking your photos, but you'll also learn how our vivo X70 series can help you master action photography on a smartphone.
Action photography - Tips & tricks for smartphones
Many photography fans believe that only a professional camera can capture quality action photography, but with the right technique and phone, you can also achieve amazing results with smartphone action photography. Here are some tips.
Learn the basics of composition
One of the basic aspects of composition is knowing how to use the rule of thirds; this rule defines a series of lines that divide the image into 9 sections of equal size that serve as a guide for composition. The key is knowing how to place each element of the image in the most appropriate frame.
The best smartphones for photography include this feature that, when activated, shows two horizontal and vertical lines to use the rule of thirds. Although the common practice is to place the main subject where two lines meet, you can also experiment for different results.
Study your camera's hardware and software
Knowing aspects such as the resolution, the size of the sensor or the type of zoom is very important to understand what you can do with your smartphone's camera. For example, phones that include more than one camera often include optical zoom. This differs from digital zoom in that its lenses act as magnifying glasses that amplify and capture all the details of images close to your main subject.
On the other hand, the image stabilizer is key when taking photos in low-light conditions, but also for recording videos and capturing moving objects, since it reduces noise in the image due to the movement of the phone. You should also find out if your mobile allows you to shoot with physical keys, as this generally allows for a more comfortable grip.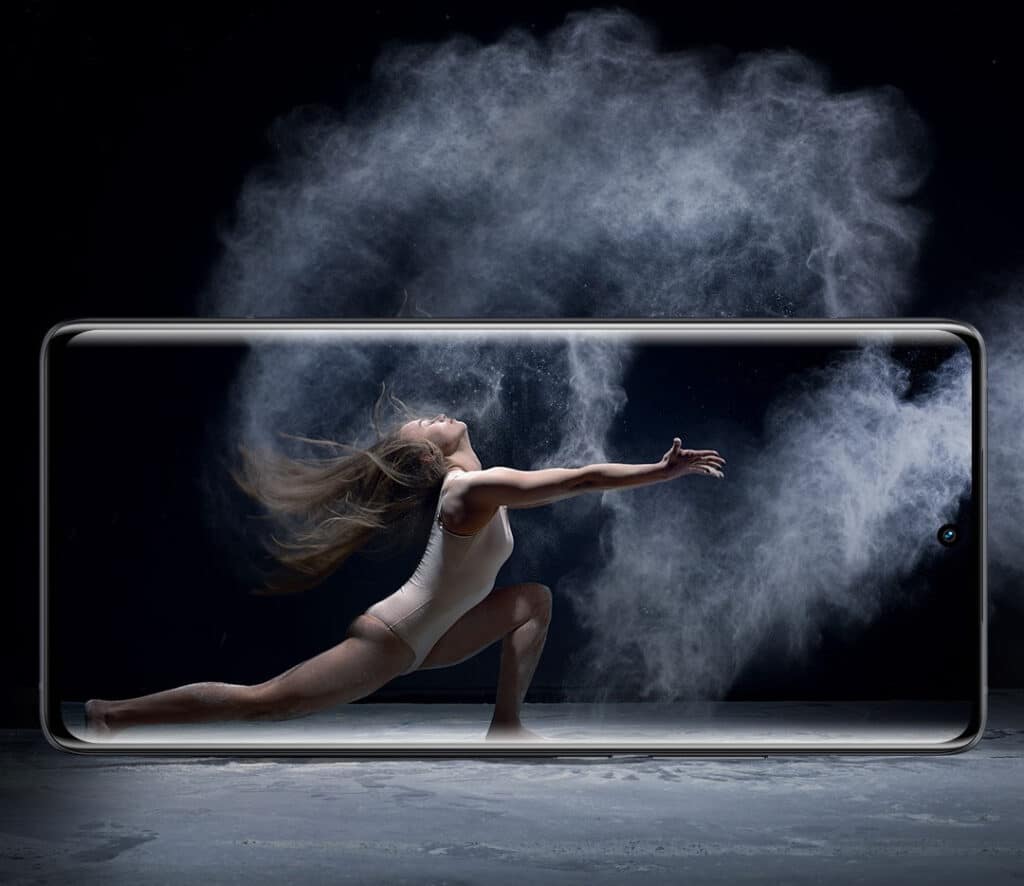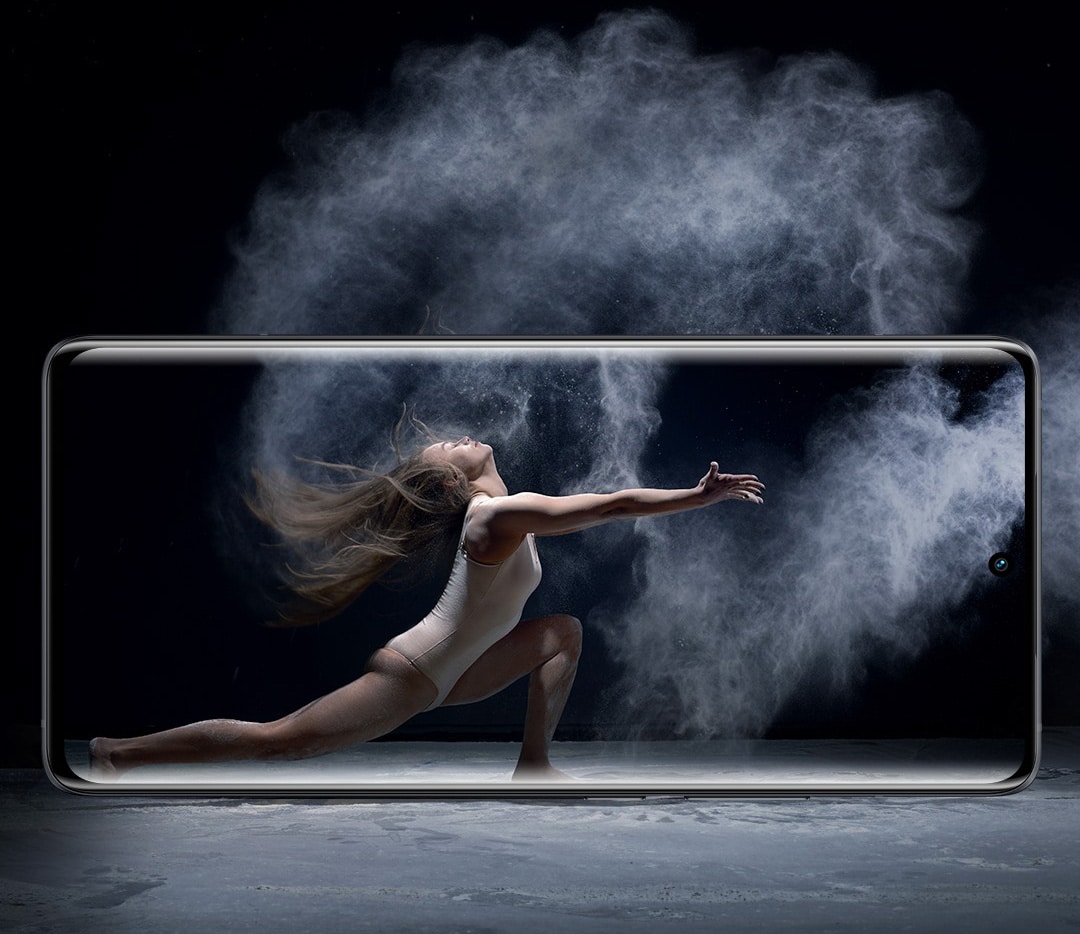 Using mental visualization to help you plan your pics can do wonders for your photography. It is about seeing in your mind all the steps you must follow so as not to lose any detail of the scene you want to capture, including the best place to locate yourself or the type of photos you want to take. A good tactic is to place your subject against a clean background to make it stand out in the image.
Light is everything in photography, so you should learn how to handle it very well to get the best results. When it comes to #action photography, outdoor daylight makes everything much easier, but things change a bit indoors or when the light is low. In these cases, it is important that you prepare before your photo session by experimenting with the scene; take a few photos and based on the light conditions, make any necessary adjustments on your phone's camera.
How to Capture Moving Objects with Your Camera Phone
Here we present different techniques for smartphone motion photography that will give wings to your creativity.
This technique involves selecting a fast shutter speed to "freeze" moving objects as you take your photos. You can start with a speed of 1/250th to try, but remember that you will have to adjust the speed according to the type of object you want to photograph. On the other hand, features like auto-focus and aperture wide can help you always keep the camera's attention on the moving subject.
This technique turns the moving subject into a somewhat diffuse but recognizable figure, giving dynamism to the image. Ideally, before applying this technique, you should practice a little with objects such as vehicles, waterfalls or birds.
With motion blur you'll need to slow down the shutter speed so your phone's camera can capture the movement of the object, as well as play with the ISO function to adjust the light sensitivity – a low ISO is good. Another recommendation is to use a tripod to reduce movement and vibration, since a slow shutter speed makes the camera more sensitive to these factors.
This is one of the best techniques for photographing moving objects in landscape mode and consists of keeping the object in focus while blurring the background of the image, achieving a striking effect. However, bear in mind that you must slightly accompany the movement of the object.
With invisible motion, you will be able to photograph moving objects that basically won't be seen in the image. This seems somewhat illogical, but it's interesting. For example, when taking pictures of moving vehicles under certain lighting conditions, you will be able to see the head and tail lights in the image, but not the actual vehicles. Again, it is recommended to use a tripod, and you should also use light compensation with ISO and some ND filter.
This technique is slightly different from motion blur, as here it's you – or the phone's camera – that's moving. You'll need to choose a slow shutter speed, get the object in focus and move the camera from side to side to get the desired blur effect.
With this technique, you can take several photos of the same scene with a time interval between each image. You can then use these photos to create a composition or add them to a video. The best part is that the phone's software allows you to edit the captured images in many different ways for amazing effects.
vivo X70 - The World Moves but Your Videos Keep Steady
Live, we're determined to master smartphone action photography to another level with our x70 series. Our phones come co-engineered by the optical company ZEISS to give photographers of all levels the best possible results for their pictures.
Ultra-Sensing Gimbal Camera
Ultra-Sensing Gimbal Camera 3.0 accompanied with the Sony IMX766V sensor means crystal-clear shots and superb stability even in motion and low-light conditions. Its co-engineered ZEISS lenses include a technology that reduces unwanted image elements and can capture up to 8% additional light, so the camera always delivers crystal-clear images.
The vivo X70 also includes a special sensor of 1/1.7″ photosensitive area that raises the autofocus function to new levels, perfect for motion photography in smartphones.
If you are a fan of video, the Full Monitoring System in the vivo x70 will allow you to enjoy a wide range of easily accessible functions to give your audiovisual productions a professional finish. This feature, in combination with the X70's ZEISS Superb Night Camera, further enables you to capture high-definition scenes even in the dark.
VIS 5-Axis ultra stable video
Combine the Pro Cinematic Mode with VIS 5-axis Ultra Stable Video and Gimbal Reset Technology to achieve an exceptional level of stability by reducing frame crops from stable angles, even at night.
Photography or video production, amateur or professional, no matter what your particular case is, the vivo X70 series has everything you need to master action photography on a smartphone. Start by learning and putting into practice the basic techniques that we have presented in this guide and use the advanced technology provided by our X70 series to obtain the highest quality in your images.