Xceptional Become True in vivo
Although many smartphone manufacturers try to integrate the latest technological advances in the field of photography into their more ambitious models, the truth is that most of the time, those exciting specifications don't translate into reality.
Until now, our new X70 Series co-engineered with our partner ZEISS, take the leap and take photography and video to another level, both for the casual user and the most demanding professional: high resolution video, slow motion, HDR, long exposure photography, time lapses, burst shooting, night photography and more.
This is the ultimate vivo X70 review, where you'll find out everything you need to know about the latest technological milestone that you can only get on vivo smartphones. Let's get started!
vivo X70 Series Masters the Xceptional
If you're looking for high-end devices that integrate a generous offer of new and innovative elements, then, our X70 Series is for you. This new series consists of three flagship phones: vivo X70, vivo X70 Pro and vivo X70 Pro+.
Our first two models share some common elements, such as a MediaTek Dimensity 1200 processor, a simple and attractive presentation – in beautiful Cosmic Black and Aurora Dawn colors for the X70, available in the Philippines – three lenses on the rear camera and a high-definition AMOLED screen.
Meanwhile, our most ambitious model, the vivo X70 Pro+, not only includes a powerful Snapdragon 888+ processor, but also incorporates our exclusive V1 image processing chip to bring an unmatched touch of life to our smartphones' cameras – in the case of the X70 Pro+, four rear lenses.
Of course, the mentioned feature makes it a somewhat larger and heavier device that also has some additional technical and design elements. A smartphone that calmly competes head-to-head with the models of similar features from the competition.
In general terms, the three models have approximate dimensions of 160x75x8 m and an average weight of 193 grams. In all three cases, the screen size exceeds 6.50″ – 6.78″ on the Pro+.
Regarding memory, the three phones come in presentations of 8GB and 12GB of RAM, and regarding storage, both the X70 and the X70 Pro come in presentations of 128GB and 255GB of ROM, while the X70 Pro+ comes in versions of 256GB or 512GB OF ROM.
Finally, all models include batteries that exceed 4000 mAh, 5G connectivity, and the most recent version of Android (11) and Funtouch OS (12).
Everything you'll need to satisfy your requirements in terms of visual comfort, performance, and energy consumption.
vivo X70 Series: The Next Imagery Master
Now, let's delve into the star section of the new X70 series: the cameras. Let's start with some technical specifications to give you an idea about what you can expect:
ZEISS T* Coating1 – Reduce reflections, stray lights, and ghosting for true colors at any time of the day.
Gimbal Stabilization 3.0 – Crystal-clear shots and great stability with an impressive light sensitivity.
Real-Time Extreme Night Vision – Get instant brightness controls and real-time previews to get the most out of your shots, even in dark environments.
Awesome portraits – Enjoy the 12MP pro portrait cameras that come with a 40/50mm focal length for awesome portraits and looks, with a great variety of styles to choose from.
Pro Cinematic Mode – Feel like you are in a director's chair with a full spectrum of functions for video treatment.
VIS 5-Axis Ultra Stable Video

– Impossible to lose anything in front of you thanks to the powerful stability system.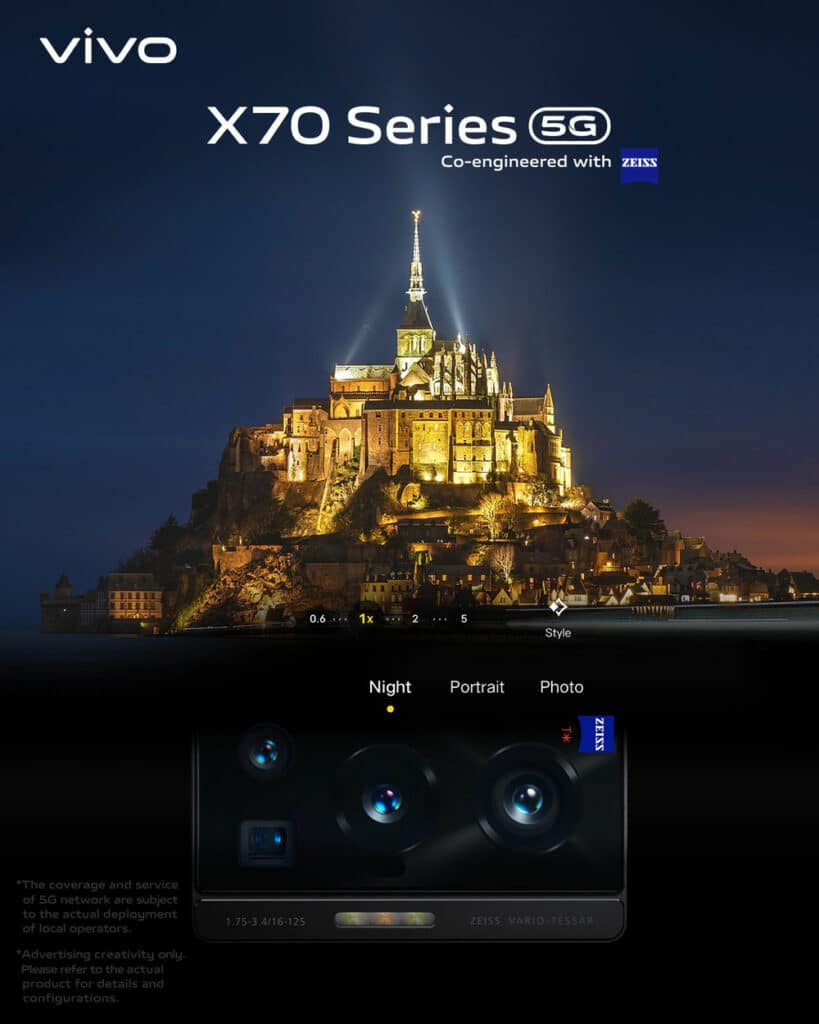 Regarding the model already available in the Philippines, the vivo X70, the smartphone comes with a configuration that includes a 40MP main sensor, a 12MP wide angle and a 12MP depth sensor. The front camera is 32MP, perfect for those selfies that should never be missing on social media.
The vivo X70 also has the most powerful stabilization system in the industry, thanks to its UltraSensing Gimbal Camera 3.0 technology. The stable angle detection offered by VIS 5-axis Ultra Stable Video and the Gimbal Reset Technology will make you feel like an industry professional – even if you already are! 
The mentioned feature, combined with the special coating on the ZEISS T* camera, will allow you to obtain the clearest and purest images you can imagine. It doesn't matter whether you are a casual user who wants to capture the best moments of everyday life or a professional photographer who wants maximum image sharpness:
You can get what you need in each case, thanks to the Quality Portrait feature that allows you to bring even the most monotonous images to life…
Or capture the key scenes of the moment with the highest clarity and quality possible, even in low light conditions thanks to the ZEISS Superb Night Camera. In fact, thanks to the Sony IMX766V camera lens, you can get up to 8% additional light compared to the current models from our competitors.
If you add to this the specs of the Pro and Pro+ models, such as the 50MP sensors or the 48MP wide angle, the motion compensation and noise reduction provided by our exclusive vivo Imaging Chip V1 (Pro + model), do you think that you are really going to need a heavy professional camera to work?
As the vivo X70 and X70 Pro models share part of their technical sheet and design, you can expect both models to be lightweight and relatively compact devices. In this sense, the back is simple, and you'll only find the module with the cameras.
Also, you'll find a strong 6.56″ AMOLED panel with Full HD+ resolution, 120Hz refresh rate and in both cases, the panel is perforated at the top to hide the internal camera.
On the other hand, the vivo X70 Pro+ is somewhat larger and heavier. This is due to its larger screen size, an impressive 6.78″ curved AMOLED panel with a resolution of 2K+ (3,200 x 1,440 px) at 120Hz, and the powerful four lens camera module included in this model.
Three devices that you'll feel fit perfectly and smoothly in your hands.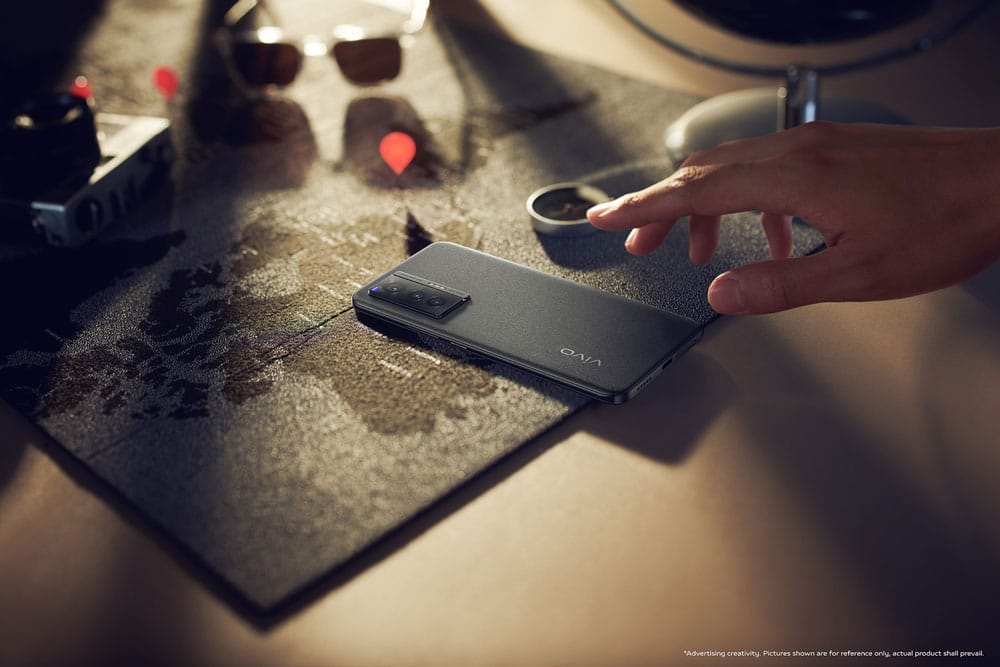 In terms of performance, the six-nanometer MediaTek Dimensity 1200 processor in the vivo X70 and X70 Pro more than does its job at all times. For its part, the five-nanometer Snapdragon 888+ in the vivo X70 Pro+ is Qualcomm's most powerful chip to date.
Regardless of the processor, all three devices come in versions with 8GB or 12GB of RAM, so you'll only see a difference in the higher amount of ROM of the vivo X70 Pro+ – 256/512GB versus 128/256GB.
The 4,400 mAh batteries in the X70/X70 Pro and the 4,450 mAh batteries in the X70 Pro+ include fast charging of 44W and 55W respectively. And for the first time in a vivo model, our new flagship phones include 50W wireless charging!
In addition to the exclusive in-house image sensor of the X70 Pro+, the new X70 series represents a ton of upgrades compared to our previous models, including design, cameras, charging systems, and waterproofing.
vivo X70 Series won't be the End of Xceptional
The fierce battle to develop the most powerful camera for a smartphone has come to an end. The new X70 Series from our brand vivo, represents a new step, a new milestone that those seeking the perfect image quality will try to overcome.
Processing power, smooth execution, energy efficiency, beautiful design, and unsurpassed photographic quality wrapped in exclusive night photography technology, are the hallmarks of the new X70 Series.
Whether you're a fan of photography or video production, but also a lover of perfection, you don't need to look any further; we're leaders in innovation in smartphones ready for the new 5G era. Whether it's the X70, X70 Pro or X70 Pro+, there are vivo smartphones waiting for you.
And so that you don't miss out on anything, whether it's the latest news on modern technologies, updates, exclusive promotions, and discounts from our company, subscribe now to our newsletter. In this way, you can keep up to date on everything related to your favorite brand.