Everyone Wants Better Selfies
The selfie is a modern phenomenon – becoming the norm for interacting with friends, family, and social media followers. The popularity of selfies means an ever-increasing demand for powerful smartphones with sophisticated cameras.
Creators are resorting to several tricks to improve the quality of selfies and streaming rates on social media platforms. vivo's V23 series aims to address these needs and to stand for the future of the selfie smartphone.
vivo's V23 series 5G phones come loaded with a thorough list of features for communicating, gaming, and entertaining. The V23 5G runs on MediaTek's powerful Dimensity 920 processor, with up to 12GB of RAM and up to 256GB of storage space.
The vivo V23 series also comes with a range of sensors for superior location, stabilization, and connectivity. Users will experience some of the best in AMOLED technology, with an FHD+ screen at a resolution of 2404x1080p. The V23 also has a multi-capacitive touchscreen and in-display fingerprint scanning.
The V23 5g boasts two incredible front-facing cameras. A 50-mega-pixel sensor for detailed selfies – and an 8MP wide-angle lens for distance selfies and video calls. The V23e 5G has a single ultra-high resolution 44MP selfie camera.
This selfie smartphone autofocuses every shot for crisp and concise images, so you can concentrate more on your performance. The V23 series smartphone has three rear cameras, each perfected for close, medium, and long-range shots. And all this in a device less than 7.6mm thick and ~180 grams.
Display: 6.44-Inch AMOLED FHD+ (2404x1080p)
Processor: MediaTek Dimensity 810
Memory: 8GB RAM + 128GB Storage
Camera: Front 44MP/ Rear 50MP + 8MP + 2MP with Flash
Power: 4200mAh / 44W Charging
Connectivity: Bluetooth – 5.2, Wi-Fi – 2.4/5GHZ, USB – Type-C
Display: 6.44-Inch AMOLED FHD+ (2404x1080p)
Processor: MediaTek Dimensity 920
Memory: Up to 12GB RAM + Up to 256GB Storage
Camera: Front 50MP/ Rear 64MP + 8MP + 2MP with Flash + Dual Tone Spotlight
Power: 4200mAh / 44W Charging
Connectivity: Bluetooth – 5.2, Wi-Fi – 2.4/5GHZ, USB – Type-C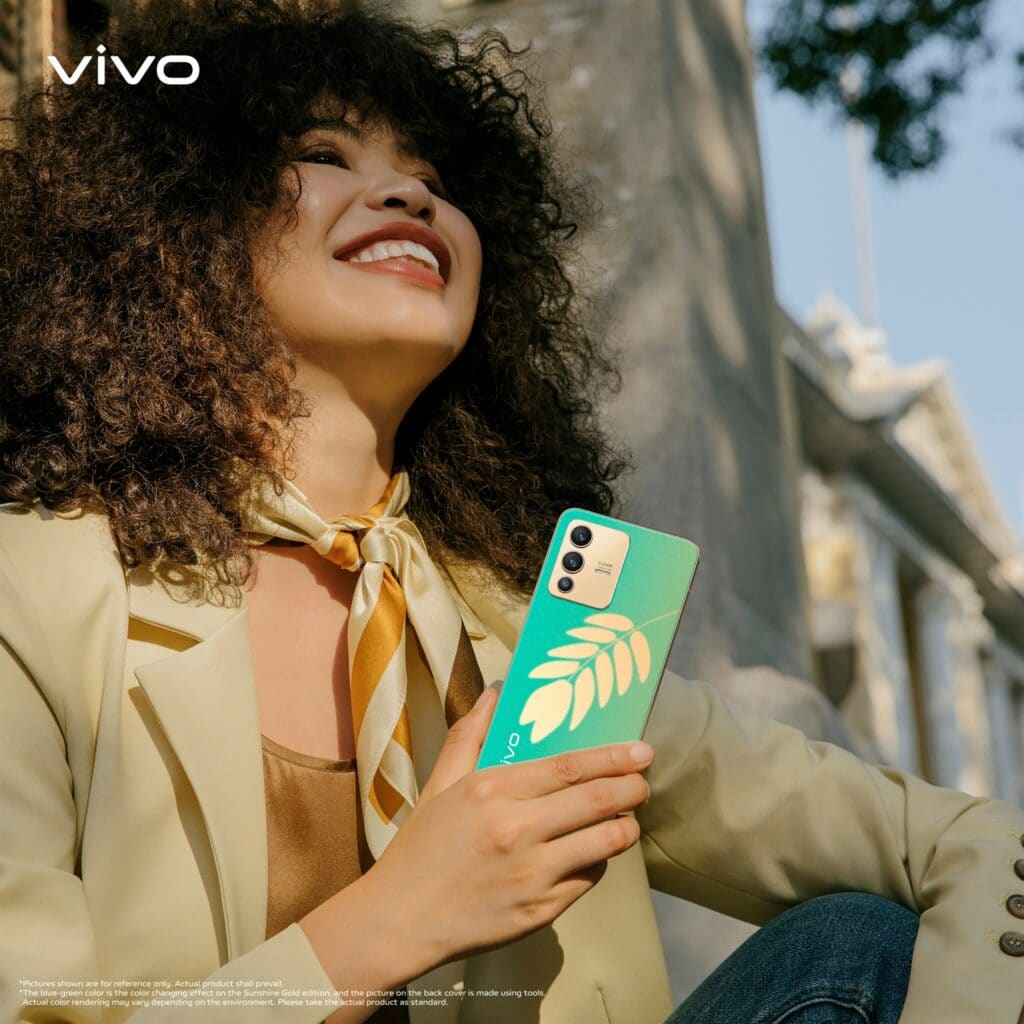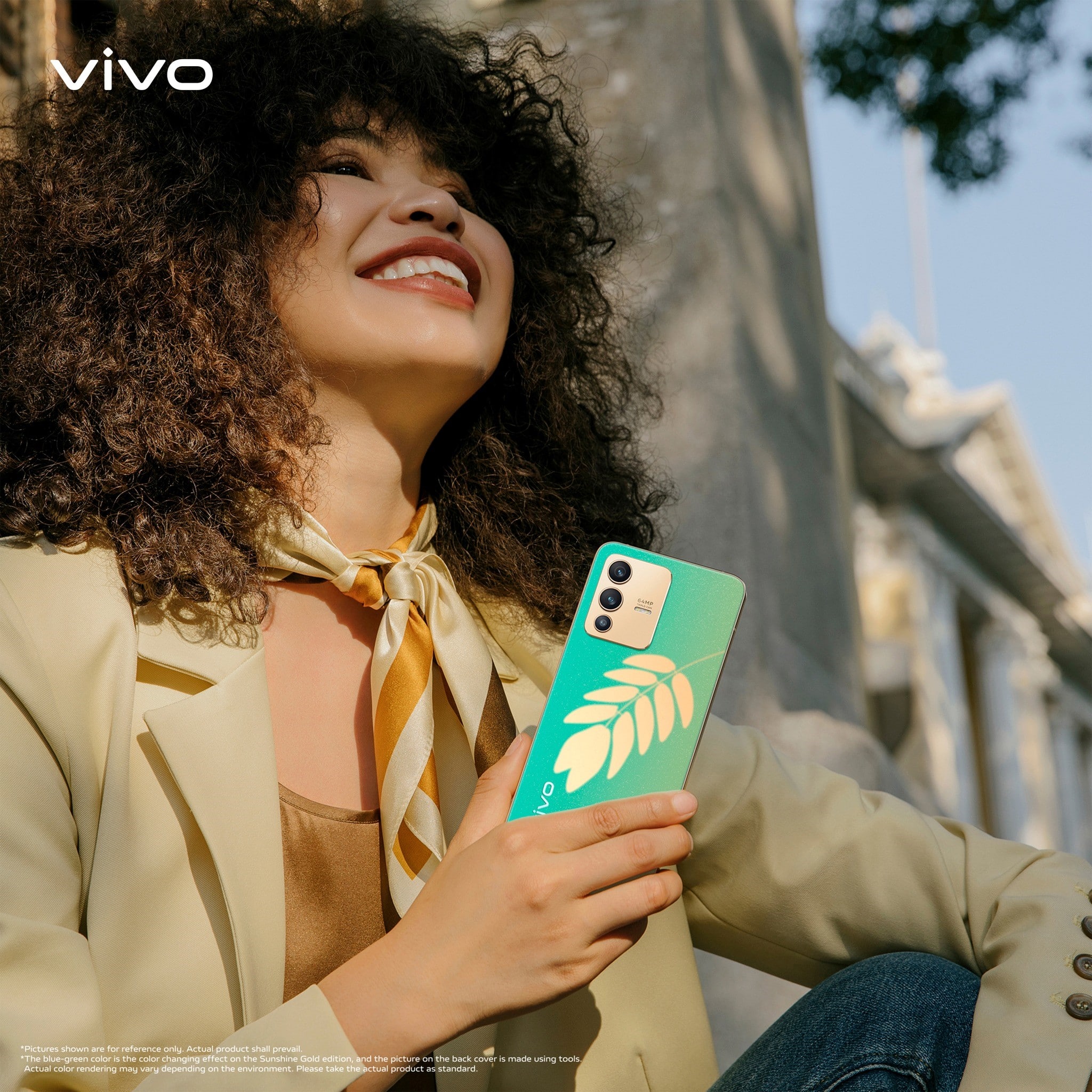 How to Level Up Every Selfie
Selfies are often hard to adjust when using the front-facing camera of your smartphone.
It is either hard to see yourself when trying to get a full-body selfie, or you are so close that your face takes the shape of a fishbowl. vivo addresses these issues in their Turbo T1 and V23 cameras and their software updates.
But you cannot solve every selfie issue with technology and a high-resolution camera. Whether you are using the latest vivo smartphone or an older phone, you want to know how to make every selfie look good.
Here are 5 tricks to help you improve your selfies: 
1. Choose a Good Background
Surprise! People do not want to see washing or a dirty kitchen in the background. Even if you blur what is going on behind you, viewers will notice the clutter. Keep in mind that your background sets the tone – a mess is associated with chaos, but a monochromatic screen can also look sterile and boring.
2. Find Your Light Source
To engage your viewers in your selfies, you want them to think that everything is directed their way. Lighting is key to making your viewers believe your selfie is a one-on-one experience. Invest in a ring-light, which will enhance the colors of your skin and cut distracting facial shadows.
Have you got a good side, or are you blessed with a perfect face? It is not easy to self-assess whether you have a more appealing side, so try and ask this brutal question to an honest friend. You can also experiment on viewers by taking selfies at various angles to see which gets the best reaction.
We asked Alden Richards – on the vivo video series "Get Real with Maine and Alden – how does he manage to get such amazing selfies from every angle?
 "It's basically knowing yourself. To achieve your perfect angle, you must know yourself physically and to really know which angles of the camera will work on you, so you will not have a hard time looking for those angles [when you need to take photos]."
4. Pose for Multiple Takes
It takes time to set up the perfect shot, and even then, you should do it multiple times with different lighting, angles, and backgrounds. Planning selfies will give you something to work off, but you are not going to know until you start shooting.
Smartphone cameras give you plenty of storage space, so if you see an opportunity, take a selfie. You have a better chance of finding the perfect selfie if you have more to choose from, and you can remove the less-flattering images without hesitation.
As Alden Richards recalls:
 "It took me a while before I got used to my angle, which is the left side. And it's not even me who discovered that- it's the people around me. But with constant curiosity, you can discover what your perfect angle is. Just do it – frequently."
Putting your phone on a stand to get a close-up of your face helps when you want to fit in the upper part of your body. But you will still want to use the rear-facing camera if you want to prevent mirroring. And if you want a full-body action selfie, you are going to need the help of a friend.
Involving anyone in a passion is tricky – and trying to explain how to hold the camera in the right place is the type of situation that leads to breakups. You can solve this problem by getting your friend to hold two smartphones back-to-back but making space for the main cameras to have a clear view.
The friend should use the high-resolution rear camera on your phone to make the video or picture. At the same time, the friend should use their phone's screen to show your image from their front-facing camera.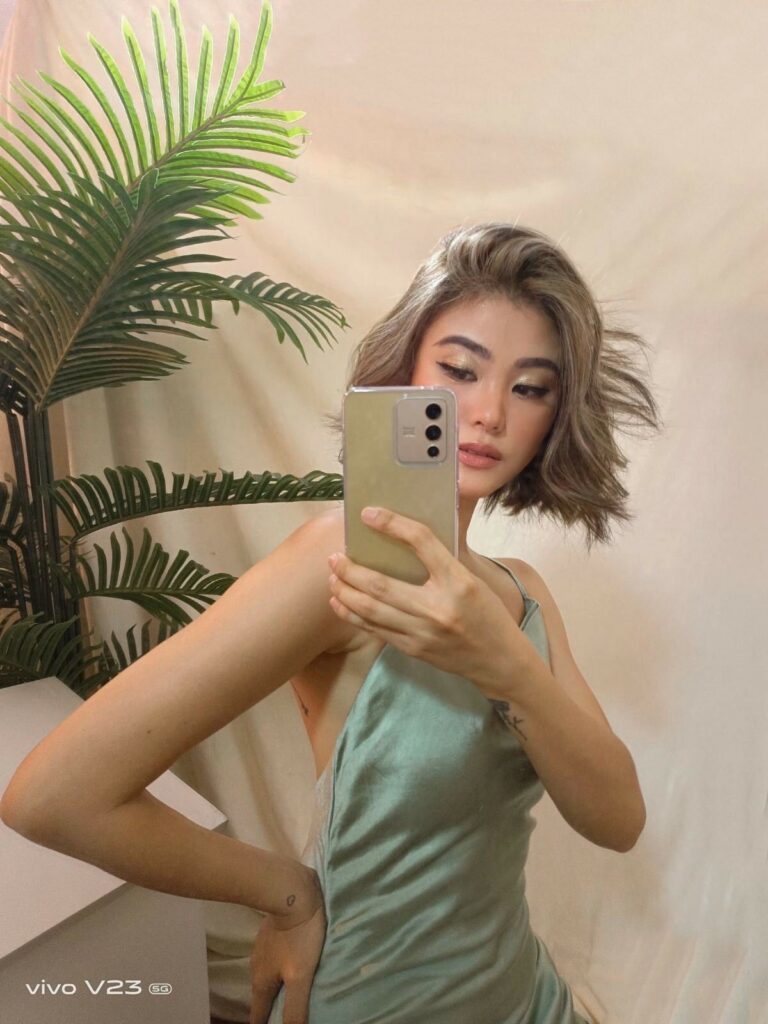 Maximize Your Smartphone Camera
Any modern smartphone will have several cameras to offer different focal lengths and portrait choices. The rear cameras are optimized to reduce fish-bowling on closeups and to mimic distant scenes with better realism.
You may want to check out vivo's new selfie smartphones, with more lenses, better stability, and improved camera sensors. These newer phones will also have better software for manipulating lighting, contrast, and colors.
Let vivo Improve Your Selfies
vivo's V23 5G smartphone is an example of how fast the market is changing and how people are changing the way they socialize. The focus of a smartphone is a device that can be an entire media center that fits in a pocket. To generate clear and vibrant pictures and video, you need a fast processor, impeccable camera sensors and lenses, and lots of memory.
The V23 series offers all this in a robust and capable device, at a fraction of the cost of those offered by the competition. If you are looking for a powerful vlogging device with excellent selfie functionality, then the V23 should be your first choice.
If you liked this article about how to look good in every selfie on smartphone, then subscribe to our newsletter for more tips, tricks, and a range of deals and discounts.