The vivo T1 series is a showpiece of the latest in imaging, connectivity, and processor technologies. Camera improvements include video stabilization, better night image contrast ratios, and higher resolutions.
The next-generation Snapdragon processors are faster and better at conserving power. vivo has also adopted the use of FHD+ screen technology for superior contrast and definition – and put them all into an affordable device.
T is for Turbo Performance
vivo Turbo offers flawless quality, unbelievable speed, and a considerable list of features. Better cameras, faster processors, and battery advances, all come together in this latest model. The vivo T1 is a smartphone built for interactive experiences such as social media, gaming, and video conferencing.
The T1 makes use of a Full High Definition Plus screen for incredible clarity and vibrant images. You get to see every detail when watching films or your videos on the 2404×1080 FHD+ screen. And a capacitive multi-touch surface gives you smooth and precise control over everything you do on the phone.
Behind the screen is a powerful Snapdragon processor, with up to 8GB of RAM and up to 128GB of storage. This gives you the means to install a range of demanding games and Apps without worrying about lagging or storage space.
The T1 offers an extensive list of physical sensors for traveling, better security, and an improved gaming experience. The T1 also allows you to record video through both front and rear cameras at the same time.
vivo Turbo smartphones are some of the best value devices on the market. The T1 offers a ridiculous amount of functionality, speed, and quality for a fraction of the price of other brands. vivo also offers phone cases and screen protectors as standard.
vivo's T1 series launched on May 30, 2022, which includes the T1 5G and the T1X, both with impressive specifications and battery lives.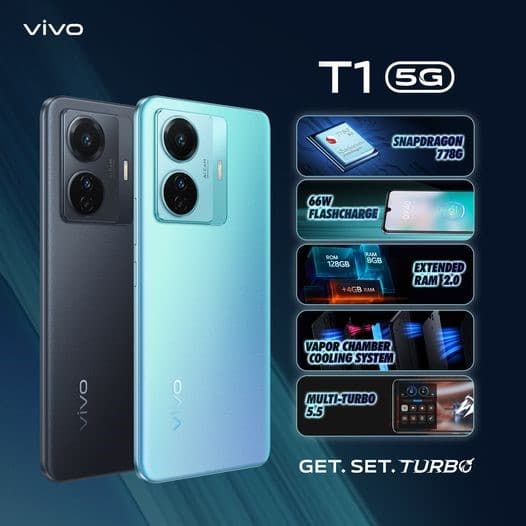 The T1 5G utilizes the Snapdragon 778 5G processor, backed up by 8GB of RAM and 128GB of storage. This gives the T1 5G a 40% performance improvement and the grunt to support the latest SA and NSA 5G transmission speeds.
The AMOLED has an unbelievable level of pixel definition. The screen displays in FHD+ at 2404x1080p, just the kind of fine detail you need when playing live games and taking photos. And the 6.44-inch Fullsense display also exhibits a 6 million:1 contrast ratio.
At the front is a capable 16MP camera for clear and steady video calls and selfies. On the rear are three more cameras, including a 2MP macro camera for the smaller wonders – and a wide-angle camera to help you get the rest of the world in.
For professional-looking photos and video, the T1 5G's 64MP main camera offers fantastic contrast and detail. Updated image receptors and software give you the ability to capture moments equally as well in the dark as in the day.
Display: 6.44-Inch AMOLED FHD+ (2404x1080p)
Processor: Snapdragon 778G 5G (8GB RAM-128GB Storage)
System: Funtouch OS 12
Camera: Front 16MP/ Rear 64MP+8MP+2MP with Flash
Connectivity: Bluetooth – 5.2, Wi-Fi – 2.4/5GHZ, USB – Type-C
Other: GPS, Dual-Sim(nano)
This phone is super compact and lightweight, at 182 grams and a hair over 8mm thick. The T1 X makes use of the Snapdragon 680, 4GB RAM, and 64GB of storage.
T1 X Owners also get a powerful 5,000mAh battery. The T1 X has an 18-watt fast-charging capability and is under the constant watch of vivo's Energy Guardian to help preserve battery life and capacity.
A 6.58-inch, 2404x1080p LCD screen provides a full HD+ viewing experience. And an optimized 90Hz refresh rate should convince most gamers that they have found the perfect live-gaming companion.
The T1 X comes with a full 8MP front-facing camera, which takes excellent selfie portraits, even in poor lighting conditions. And on the rear are three more stabilized cameras for near, group, and distance imaging.
Display: 6.58-Inch LCD FHD+ (2404x1080p)
Processor: Snapdragon 680 (4GB RAM, 64GB Storage)
System: Funtouch OS 12
Camera: Front 8MP/ Rear 50MP+8MP+2MP with Flash
Connectivity: Bluetooth – 5.0, Wi-Fi – 2.4/5GHZ, USB – Type-C
Other: E-Compass, Dual-Sim(nano)
We shown that it is possible to produce a high-end smartphone for a reasonable price. The T1 series shows that you can put speed, sensors, and functions in an inexpensive phone without sacrificing quality.
We strives to create affordable smartphones that are accessible, robust, and capable.