A Movie Studio in Your Pocket
The days when you needed to break the bank on expensive filming equipment to create high-quality video content are long gone. Now, a modern smartphone and editing software is all you need to shoot professional-looking videos. However, at vivo, we don't just try to match the competition, but strive to take the cinematic experience to a whole new level.
Our latest vivo x80 Series reinvents smartphone movie-making and raises the bar on what the phone camera can do. The common goal of everyone at vivo is to help you pack the might of a movie studio in your pocket and easily turn every daily moment into a visual masterpiece. The video below provides a glimpse at what vivo x80 Series has to offer.
vivo X80 Series: Cinematography Redefined Co-engineered with ZEISS Optics
In creating vivo x80 Series, our top engineers and their colleagues from ZEISS followed a simple, but bold, vision – to help you produce a visually stunning output, on par with the latest Hollywood blockbusters. The result is the superior camera technology that is not only among the best seen on smartphones, but also stands shoulder-to-shoulder with professional video equipment.
The new premium addition to the vivo smartphone lineup, vivo X80 Pro, opens a whole new world when it comes to mobile filmmaking. Co-engineered by vivo and ZEISS, the powerful and versatile Imaging System works to make everything you capture on video a striking masterpiece. Armed with vivo's customized chip V1+ and 50MP Ultra-Sensing GNV Sensor, our latest flagship phone will provide you with a taste of the next-level, all-around, and immersive visual experience.
vivo X80 Pro: Turning Daily Life into a Blockbuster
The spectacular visual imagery provided by vivo X80 Pro wouldn't be possible without some serious muscle behind it. A peek under the hood reveals nothing but premium quality. The phone is powered by a flagship processor Snapdragon8 Gen 1, backed by 12GB LPDDR5 RAM memory and a 4700mAh battery. We also made sure that your movie masterworks can shine in all of their glory on the 6.78-inch 2K E5 Ultra Vision Screen, supporting 1.07 billion colors and with a 120Hz refresh rate.
Of course, the camera technology is still what we're the proudest of, especially when it comes to cinematic features. State-of-the-art ZEISS Optics, along with Cinematic Video Bokeh, AI Video Enhancement, Active Centering OIS System, and 360 Horizon Leveling Stabilization will turn your every frame into a small piece of art.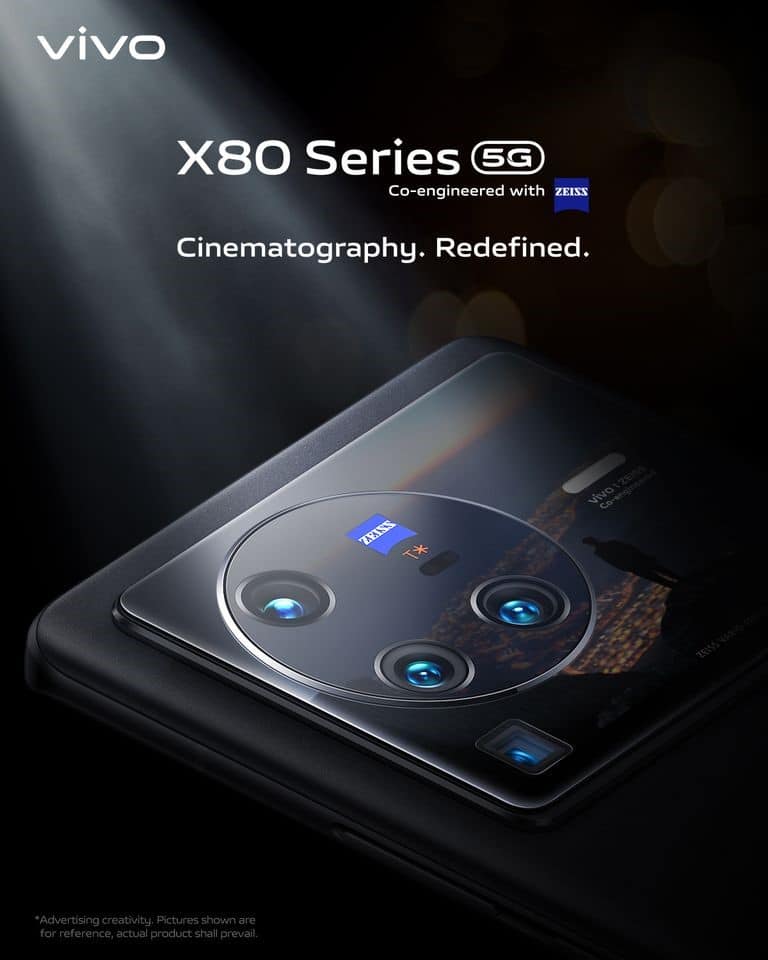 How to Shoot Stunning Hollywood-Quality Movies Using vivo X80
With vivo X80 Pro, we did our best to provide you with the best possible tool for expressing your creativity and creating awesome video content. However, to make the most of its amazing capabilities, you should learn some basics of mobile filmmaking. To help you, here are some handy smartphone camera tips that should help you raise your game as a movie creator.
Consider What Your Video is Going to Be
Before you hit the record button, make sure you know what you want to accomplish with that video. No matter if you're recording a piece of your daily routine, documenting your kid's birthday, or trying to make a feature movie, every video should have a story. To make sure your story makes sense and separate relevant points from irrelevant ones, it's always a good idea to determine the shots you want to take in advance. Even better, you can create a storyboard of shots to take you through the filmmaking process.
Set Up Your Phone and Smartphone Camera Settings
The moviemaking capabilities of vivo cX80 Pro are practically endless. However, you should get familiar with various camera features and presets to fully use them. ZEISS Cinematic Video Bokeh will help you create unique and anamorphic shapes in the background of your video, giving your movie a dreamlike quality.
Using AI Video Enhancement will detect highlights in the dark and deliver a clear view of the activity even when shooting on a pitch-black night and provide well-balanced imagery in contrasting scenarios. Don't be afraid to experiment and play around with other settings, too, as you may be pleasantly surprised with the result.
Use Necessary Accessories
While vivo X80 Pro will provide great videos by itself, you can always try to take it a step further by utilizing various accessories. A lens kit, microphones, night shots lighting accessories, or hand grip can all provide a bit of help. They don't cost much and can make your filmmaking process move forward more smoothly and without a hitch.
Keep Your Clips Short and Diversify Shots
Long shots can often feel dull and tiring to watch. To keep things dynamic and exciting, diversify your shots and make them short and sweet. In most cases, you'll achieve better results by putting together multiple 15-20 seconds clips than by having one long shot of the same thing. Be sure that your audience will find these types of movies more captivating and engaging.
No one likes shaky, hand-held footage that makes it impossible to discern what's really going on in the video. While you can use a tripod to stabilize your phone, vivo X80 Pro offers a much easier and more practical solution. If you enjoy more action in your videos, Active Centering OIS System and 360 Horizon Leveling Stabilization will keep the shots rock-steady, even if you're running or jumping with the camera.
Multiple perspectives are the easiest way to add a cinematic feel to your videos. Get creative and play with angles. Moving around and finding new ways to approach the subject you're filming will not only make the final product look more lively, but also make the shooting more fun and exciting.
Besides the visual component, you also want your audience to enjoy the sound quality of your videos. To achieve this, make sure that there are no unwanted background noises during the shoot. If outside, try to have your back to the wind and make your body a sound barrier. For even better sound quality, you may want to invest in a small external microphone.
Utilize Slow Motion and Time-Lapses
The slow motion and timelapse features on your vivo X80 Pro can add a bit of much-needed pizzazz to your video. Action can often look even more exciting when slowed down, On the other hand, speeding up time passage with Time-lapse feature can make an otherwise boring video, full of life and excitement.
Create Share-Worthy Video Content
No matter if you're a professional moviemaker, vlogger, or you simply enjoy making videos for your friend, vivo X80 Pro can provide all the shooting tools you need and bring the movie magic to your fingertips. Mobile filmmaking has never been so easy and so exciting as it is with our new vivo X80 Pro.
For more smartphone camera tips that can make you a Hollywood-level movie director check out vivo's pages across social medial platforms a subscribes to our newsletter,