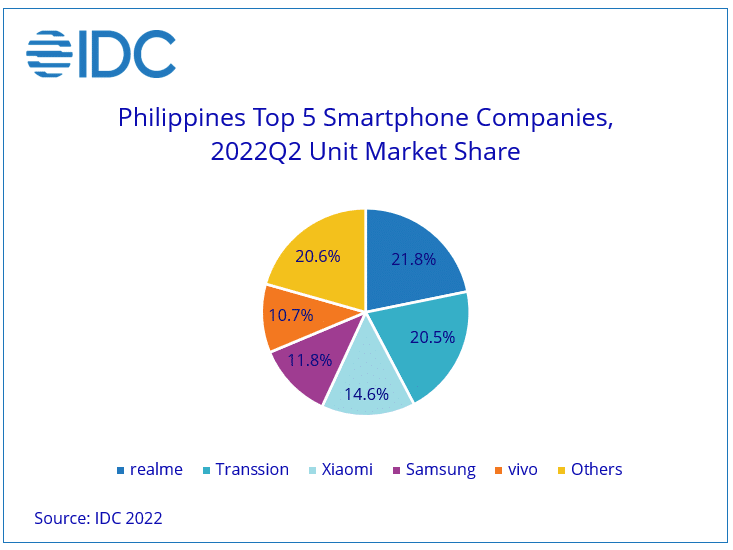 PHILIPPINES, SEPTEMBER 1, 2022 – vivo joins the list of top 5 smartphones in PH in Q2 2022 according to the recently released International Data Corporation (IDC) Quarterly Mobile Phone Tracker. Despite the industry's overall decrease in QoQ smartphone shipment,, IDC reports that vivo recorded a 335.4% QoQ increase in its shipments. 
This significant market comeback can be owed to vivo's new entry models: the Y15s and Y15a. vivo's reinforced market position in the ultra low-end segment has allowed the brand to reach a broader target audience. Moreover, partnerships with relevant brands and events such as the PUBG Turbo Cup Challenge, a mobile eSports championship, helped vivo penetrate the highly competitive mobile gaming market.
The recently launched additions to its continuously growing roster such as the co-engineered with ZEISS photography masters vivo X80 series and the power-packed turbo smartphones vivo T series, among others, have also contributed to this feat.
The next half of the year proves to be just as exciting for vivo as the brand is slated to launch a few more devices in its smartphone lineup. For more updates on vivo and its products, follow them through their official website and social media accounts: Facebook, Instagram, and Youtube.
###
About vivo
vivo is a technology company that creates great products based on a design-driven value, with smart devices and intelligent services as its core. The company aims to build a bridge between humans and the digital world. Through unique creativity, vivo provides users with an increasingly convenient mobile and digital life. Following the company's core values, which include Benfen*, user-orientation, design-driven value, continuous learning, and team spirit, vivo has implemented a sustainable development strategy with the vision of developing into a healthier, more sustainable world-class corporation.
While bringing together and developing the best local talents to deliver excellence, vivo is supported by a network of R&D centers in Shenzhen, Dongguan, Nanjing, Beijing, Hangzhou, Shanghai and Xi'an, focusing on the development of state-of-the-art consumer technologies, including 5G, artificial intelligence, industrial design, imaging system and other up-and-coming technologies. vivo has also set up an intelligent manufacturing network (including those authorized by vivo), with an annual production capacity of nearly 200 million smartphones. As of now, vivo has branched out its sales network across more than 60 countries and regions, and is loved by more than 400 million users worldwide.
*"Benfen" is a term describing the attitude on doing the right things and doing things right – which is the ideal description of vivo's mission to create value for society.
Stay informed of latest vivo news at https://www.vivo.com/en/about-vivo/news