Are you still worried about poor photography? Do you crave a smartphone that effortlessly handles various photography scenarios? Look no further, as the vivo V29 is here to revolutionize your photography experience!
As the latest addition to the vivo family, the V29 seamlessly melds vivo's renowned photographic technology with cutting-edge innovation, delivering the ultimate photographic experience to users. This smartphone boasts a plethora of robust photography features, complemented by superior hardware and intelligent technology that elevate its photography prowess to unprecedented heights.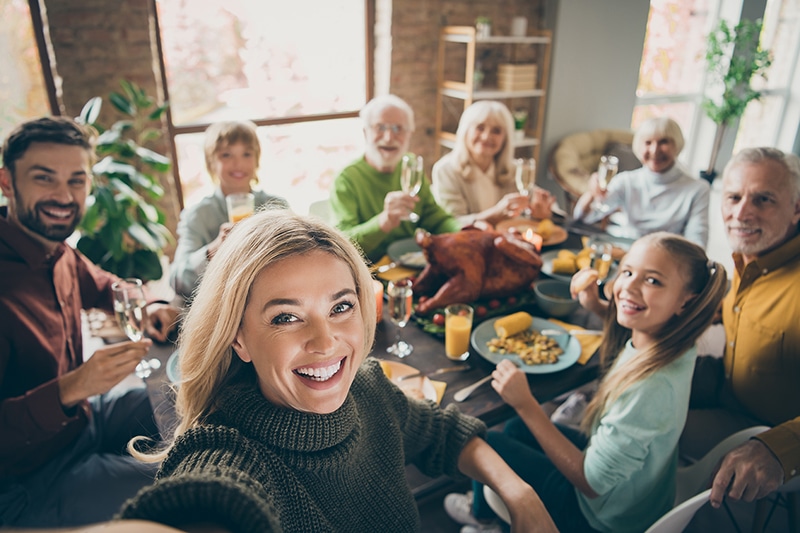 Wide-angle dual-aura light front portrait offers distinct advantages
The vivo V Series has consistently excelled in the realm of selfie photography, earning its reputation as a go-to choice for capturing striking self-portraits. The evolution from soft selfies in the Aura 1.0 era to dual-sided aura portraits in Aura 2.0 and intelligent aura portraits in Aura 3.0 showcases vivo's dedication to pushing the boundaries of portrait selfies.
At the forefront of the vivo V29 is a 50MP ultra-light-sensitive portrait lens, armed with a 1/2.76-inch Samsung JN1 sensor. This high pixel count combined with a larger sensor surface area ensures that every detail is vividly captured on the screen.
Furthermore, the front camera features a moderate 90-degree wide-angle lens, enhancing facial three-dimensionality while eliminating distortions often associated with overly large apertures.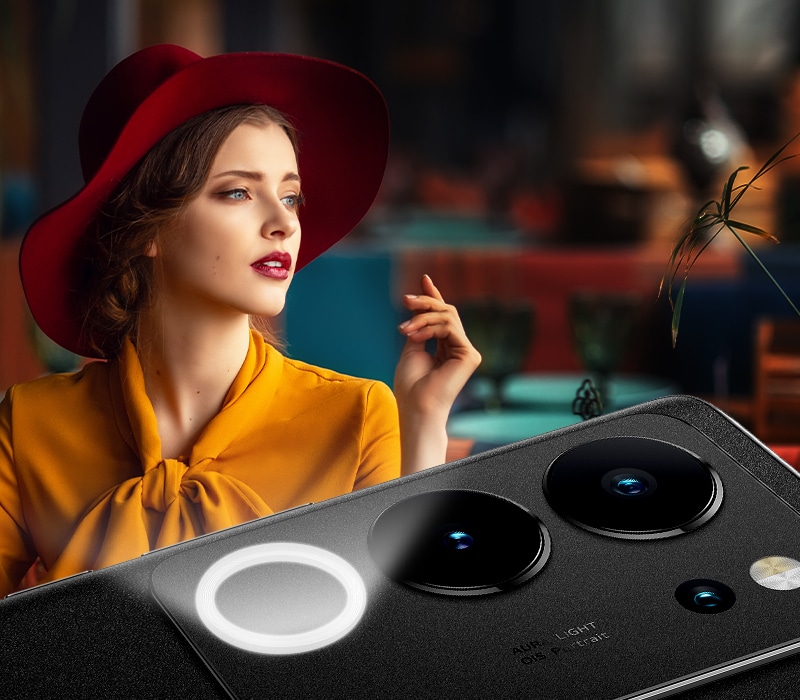 In essence, the smartphone's lens and sensor work harmoniously to achieve stunning results with meticulous optimization. Clarity is the hallmark of this lens, capturing intricate details from facial features to hair textures, clothing materials, and accessory nuances. It also guarantees an excellent field of view and impeccable visual appeal.
The V Series has also earned acclaim for its low-light photography capabilities, thanks to the unique "secret" soft light feature. With the vivo V29, vivo has fine-tuned the design of the front aura light, introducing a new light guide pillar beneath the screen to enhance directional fill lighting.
Additionally, the front wide-angle lens has been adapted to complement the front soft light, with a 90-degree fill light angle that optimizes the fill light range.
To cater to the public's aesthetic preferences, vivo has shifted the front fill light from cool white to soft white, elevating the color rendering index to 90 for more natural and comfortable skin tones.
Moreover, the aperture has been upgraded from f/2.45 to f/2.0, allowing for greater light intake in low-light scenarios, resulting in 50% more light for transparent low-light portraits and even facial illumination.
With the front fill light, you can effortlessly capture softly lit photos with radiant skin, creating visually appealing images in various low-light situations. The shift in color temperature and fill light range ensures lifelike facial colors and enhances facial contours.
Breakthrough in Bright Portrait Aura Ring
As a device with portrait photography embedded in its DNA, the vivo V29 also delivers exceptional rear-camera performance.
The vivo V29 introduces a classic dual-camera imaging solution on the rear, featuring a primary camera with a GN5 sensor sporting the same 50MP resolution as the front camera and supporting OIS optical stabilization. It also incorporates an 8MP ultra-wide-angle lens with a 108° field of view, perfect for capturing scenic landscapes.
Sample photos demonstrate the V29's prowess in landscape photography, rendering distant mountains, nearby bodies of water, and the colors of nature with remarkable accuracy.
The smartphone's HDR function impressively preserves details even in challenging low-light conditions, ensuring clear visibility without unsightly black areas.
The primary camera's sharpness, coupled with its high pixel count, delivers a captivating visual experience for all.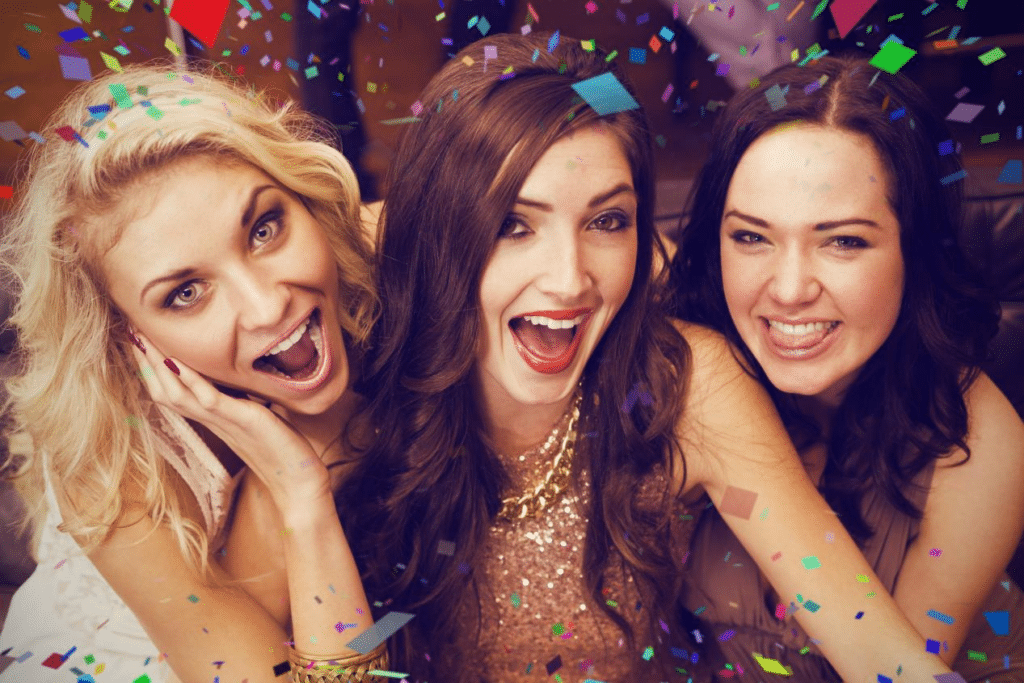 The vivo V29 excels in night photography, showcasing a notable advantage over competitors in its class. With no glaring overexposures or excessive darkness, the images boast exceptional clarity and sharpness.
For amateur photographers, not every shot can be a masterpiece. To address this, the vivo V29 introduces the Magic Sky feature, offering a range of atmospheric preset templates that subtly enhance sky colors using AI technology, making every creation stand out.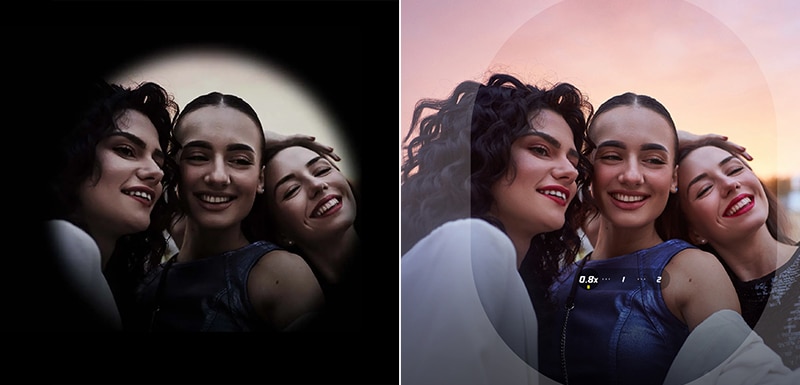 Within the vivo V29's imaging module, a new flash and an intelligent soft ring with an ultra-large light source add a touch of magic to your photos. The soft ring continuously illuminates, enhancing the shooting ambiance, while allowing you to manually adjust the color temperature to suit your preferences.
When using the rear camera for portrait photography, the vivo V29 excels in capturing intricate details. Every strand of hair, highlights, and shadows on the subject's face is rendered with precision, emphasizing facial features and achieving a natural, textured look.
The large sensor of the primary camera ensures optimal brightness, resulting in pleasing color tones throughout the image.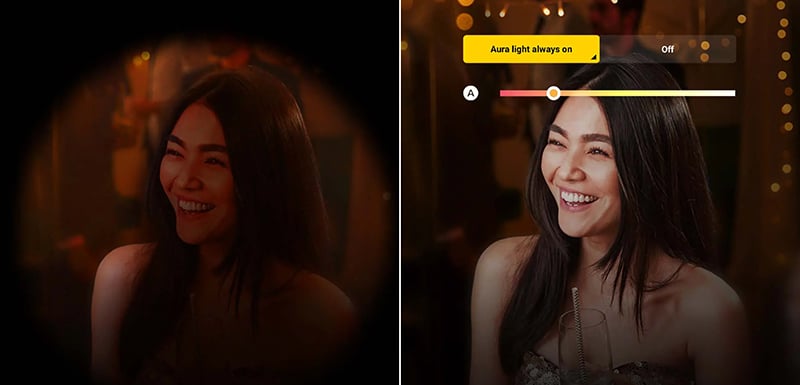 In dim or complex lighting scenarios, fill lighting becomes indispensable to prevent uneven and weak lighting.
Activating the rear wisdom soft light ring bathes subjects in soft white light, preserving skin texture while eliminating blemishes. The skin texture remains intact, and the soft light effectively mitigates oily reflections.
Furthermore, the vivo V29's Night Fill-in feature precisely controls color temperatures, faithfully reproducing actual colors and delivering warmer tones for a more natural skin complexion.
The vivo V29's photography capabilities are nothing short of revolutionary, thanks to innovative AI technology that intelligently recognizes shooting conditions and optimizes parameters to yield outstanding results.
Whether you are capturing backlit scenes, nighttime shots, or stunning portraits, the vivo V29 empowers you to effortlessly create beautiful moments and captivating images.
With its Ultra HD screen and powerful processor, you can showcase every detail and relish the art of photography like never before.
Follow vivo Philippines Facebook, Instagram, YouTube, Twitter, and TikTok to know more about V29.
vivo is a technology company that creates great products based on a design-driven value, with smart devices and intelligent services as its core. The company aims to build a bridge between humans and the digital world. Through unique creativity, vivo provides users with an increasingly convenient mobile and digital life. Following the company's core values, which include Benfen*, design-driven value, user orientation, continuous learning, and team spirit, vivo has implemented a sustainable development strategy with the vision of developing into a healthier, more sustainable world-class corporation.
While bringing together and developing the best local talents to deliver excellence, vivo is supported by a network of R&D centers in Shenzhen, Dongguan, Nanjing, Beijing, Hangzhou, Shanghai, and Xi'an, focusing on the development of state-of-the-art consumer technologies, including 5G, artificial intelligence, industrial design, imaging system, and other up-and-coming technologies. vivo has also set up an intelligent manufacturing network (including those authorized by vivo), with an annual production capacity of nearly 200 million smartphones. As of now, vivo has branched out its sales network across more than 60 countries and regions and is loved by more than 400 million users worldwide.