vivo has unveiled a new generation of its own imaging chip, the vivo V1+, which will debut in vivo X80 series. The self-developed chip is designed to further boost professional imaging and display performance of  vivo smartphones.
Executive vice president of vivo, Mr. Hu Baishan, said that more than 30 patents have been produced during the process to have a more collaborative development on V1+ chip to bring its utmost ability. The research and development team made sure that the vivo X80 Series will have advanced camera technologies that consumers won't find in any other smartphones.
It is rumored that the V1+ chip will have three characteristics: good scheduling, fast speed and energy efficiency. It has a 3D real-time stereo night scene noise reduction, MEMC frame insertion and AI superpartition algorithm all materialized in hardware, bringing data throughput up to 8GB/s. The brand also strengthens color management in four dimensions: detection, shooting, processing and display to enhance the mobile imaging experience.
With SRAM, energy efficiency can be increased by about 300% and power consumption can be decreased by about 72%. In terms of gaming performance, V1+ chip adopts a GLT2.0 upgrade algorithm to split reloading threads at multiple levels to achieve a balance between performance and power consumption. At the same time, GPU Fusion uses MediaTek APU's AI computing capability to unite multiple processors to complete the picture rendering of the game and release GPU load.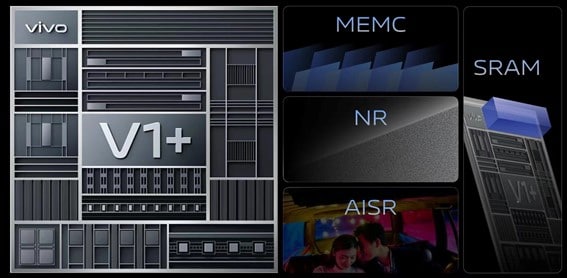 Gone are the days where a single chipset is the only thing you need to produce high quality images in a smartphone. The world is changing, so do the expectations of people about what they want to have in their smartphones. They want a smartphone that can give them good photos so they have memories to look back on and a powerful smartphone to meet their digital demands.
This is why vivo developed their second designed chipset and made sure that the vivo X80 Series will have the latest processor, to be able to give the most advanced image hardware software and technology for consumers to enjoy.
Witness more technological breakthroughs as vivo continues to expand its efforts to develop new ways of improving both hardware and software advantages of a smartphone to unlock its fullest potential.