After dominating the mid-range and budget markets, vivo has stepped up to the high-end market with the launch of the X50 series. vivo's X50 and X50 Pro smartphones are the most feature-rich smartphones in their price range. These premium Android phones offer impressive features for buyers looking for a high-end phone that offers world-class value for the price. Learn why vivo X50 series are worth buying in this detailed vivo X50 review
The vivo X50 series continues vivo's history of innovations. vivo phones were the first to feature pop-up selfie cameras and in-display fingerprint readers. With the X50 series, vivo releases the first truly professional quality cameras available on any smartphone. The advanced camera is one of the main reasons for buying vivo X50 Pro.
Why is vivo X50 Series worthy-to-buy?
Here are some quick facts about the X50 series vivo phones.
They're fully 5G compatible.
The vivo X50 Pro is the thinnest 5G smartphone in the world.
The vivo X50 phones feature impressive camera, gorgeous design and powerful internals.
Reasons for Buying Vivo X50 Pro and Vivo X50
The X50 series has a high-end price to go with its high-end features. You may be wondering why vivo X50 series are worth buying. In this vivo X50 review, we take a closer look at the details that make these phones stand out.
Design
These slim, lightweight phones have high-quality craftsmanship. The curved shape, bright display and striking color choices make these phones gorgeous to look at and fun to use.
Display
The vivo X50 Pro has a 6.56-inch curved OLED display with 1080 x 2376 resolution. The X50 has a flat 6.56-inch AMOLED display with the same resolution. You get intense colors and a full screen display with every application.
Colors
The phones come in three great colors. Choose Frost Blue, Glaze Black or Alpha Gray. An anti-glare coating helps preserve the colors.
Camera
The vivo X50 Pro smartphones come with a gimbal camera. This is an amazing upgrade for smartphone cameras. A gimbal is a tool that uses intelligent sensors to stabilize a camera in motion, which means you can take perfectly smooth video recordings while you're moving.
Specialty modes: The gimbal camera system comes with several modes for specialty recording of photos and videos. Pro Sports Mode delivers high-resolution photographs of objects and people in motion. You also get Super Night Mode 3.0, Extreme Night Vision, Astro Mode, Night Portrait, Style Night Filters and more. The Hyper Zoom system gives you 5x optical zoom and 60x digital zoom to create wonderful photos wherever you go. Other modes make it easy to take selfies and produce YouTube videos.
The camera comes with built-in, intelligent autofocus that works for both photos and videos. Three microphones capture sound in amazing clarity to produce 3D audio recording. It's the closest you can get to professional videography in a smartphone.
Camera system: The vivo X50 has a triple camera system with a primary 48-megapixel Sony IMX598 sensor. The X50 has a 5-megapixel macro lens and a 13-megapixel bokeh lens. It does not have the gimbal camera system.
The X50 Pro comes with a four-camera setup and the gimbal camera system. The other lenses are a 13-megapixel lens, an 8-megapixel telephoto lens and an 8-megapixel ultra-wide-angle lens.
Video-specific features: The vivo X50 Pro adds features that any content creator will appreciate. The Art Portrait Video mode uses an algorithm to add a professional-looking bokeh effect to your videos so you always look your best in them. Instant Vlog Mode lets you create instant videos ideal for your blog or YouTube channel.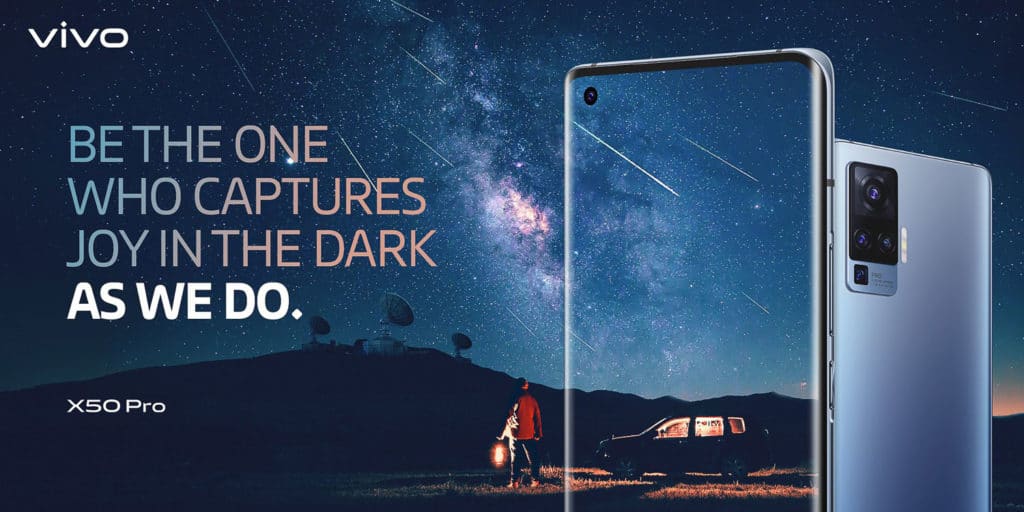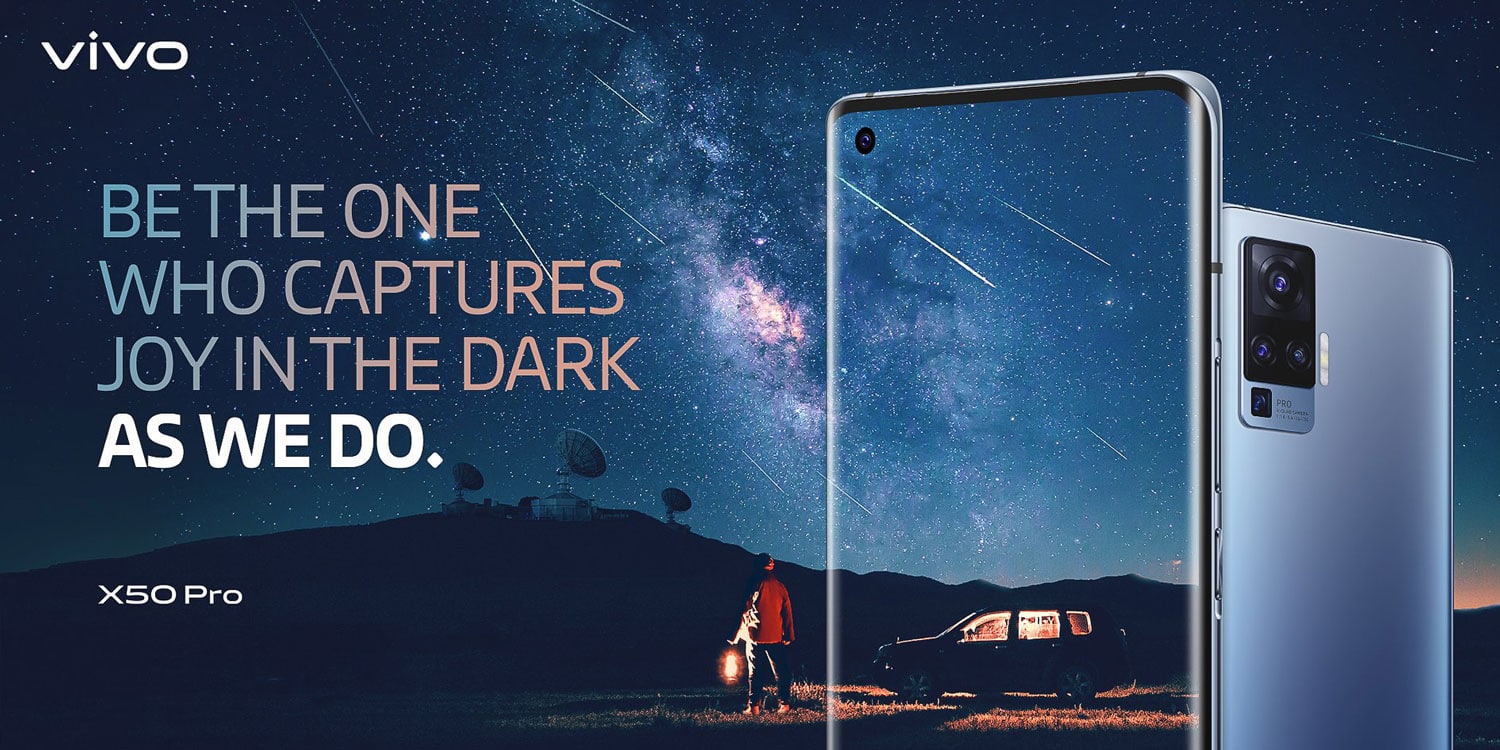 Each phone in the X50 series uses a Qualcomm Snapdragon processor with 8GB of RAM and Qualcomm's fifth generation artificial intelligence performance enhancement.
The standard X50 has been upgraded with a Snapdragon 765G processor, and the X50 Pro has a Snapdragon 865 chipset. With both phones, you get a 90Hz refresh rate and a 4200mAh battery with 33W charging. And both phones use the FunTouch OS 10.5 based on Android 10.
Price is another reason to consider the vivo X50 and X50 Pro phones. While they range from the middle to the high end of the price scale, they deliver impressive features for the price. You won't find another 5G-ready smartphone with these features and styling at the same price point.
vivo X50 Pro
vivo X50 smartphones come with innovative features, 5G connectivity and the world's first gimbal camera system
Learn More About the X50 Series
vivo X50 and X50 Pro are state-of-the-art smartphones with high-end features. These phones come with:
Advanced gimbal camera system.
5G Connectivity.
Large 6.56-inch display.
Video-specific features.
Qualcomm's Snapdragon 765G.
FunTouch 10.5 OS.
Slim, stylish design.
The vivo X50 series continues the vivo tradition of creating smartphones with features and performance that stand out among other phones in their price range. If you live in the Philippines and you're in the market for a smartphone that's innovative, advanced and stylish, you can't go wrong with the vivo X50 series.