vivo, a global leading technology company, has launched the stylish V27 Series, the latest addition to its V series, with powerful camera capabilities. The vivo V27 5G is equipped with an outstanding 50MP OIS Ultra-Sensing Camera, an Aura Portrait Algorithm feature, eye-catching color designs, and an ultra-thin grip.
Intelligent, outstanding cameras ensure glamour portraits
Combining functionality with intelligent, outstanding cameras, the Aura Portrait Algorithm feature of vivo V27 provides natural night portraits thanks to its ultra-sensing rear main camera, studio-level soft lighting effect, and portrait-enhancing capabilities. The Aura Light and Portrait Mode work in tandem to help the camera light up faces for great portraits at night and help users record beautiful moments.
In addition, the 50MP OIS Ultra-Sensing Camera together with the SONY IMX 766V of vivo V27 on the back of the phone offers a longer exposure and increases light intake by six times, producing more stable snapshots and boosting the quality and success rate of images taken in low-light conditions. The 50MP Eye AF vlogging front camera takes clearer selfies with richer details, for a poster-like image. In addition, users can also enjoy the multi-style portrait system which offers different templates to personalize images taken on the front and rear cameras.
The sample pictures show a more accurate recognition of the background and a beautiful atmosphere when taking photos. The vivo V27 series also performs well with facial skin texture processing and facial light transition of the characters, especially when compared with the flash of other phones. In fact, the face of a person without soft light is dark and dull, while for vivo V27 series, the characters' face lights evenly, the skin tone looks more natural and thanks to the OIS+EIS Dual Ultra Stabilization, the photos are clear and stabilized.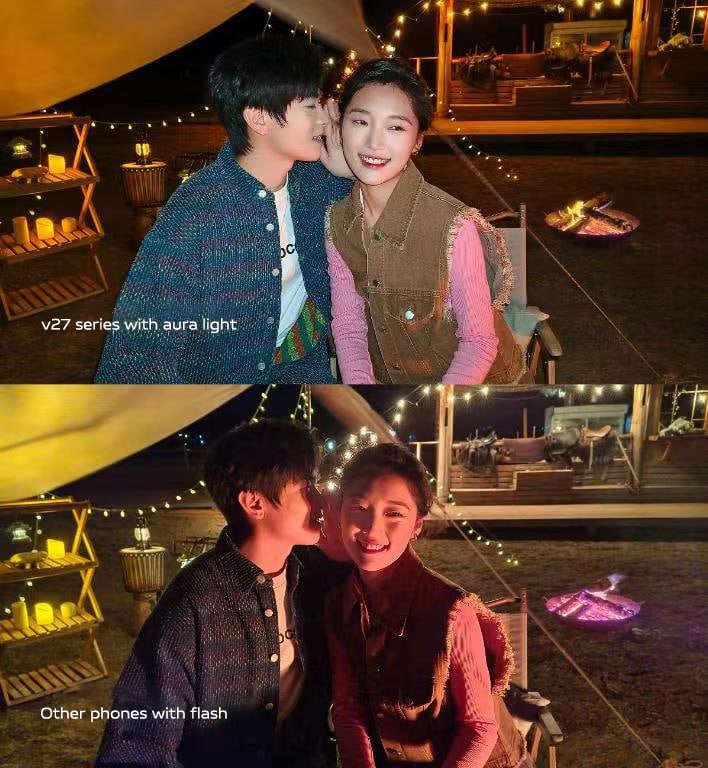 Meanwhile, the vivo V27 series can also take perfect photos at low light scenario. The images taken by other phones without an Aura Portrait Algorithm feature have red lights reflected on the face of the character. In contrast, in vivo V27, after turning on the rear aura light, the character's look is bright and natural, the skin tone is fair, the ambient light is still the original color, and such lighting effect is comparable to studio-level lighting.
Since vivo V27 series in the rear camera module adds the original color soft ring, the traditional flash point light source into a surface light source, as well as real-time extreme night vision to achieve such clear photos
Since vivo V27 series in the rear camera module adds the original color soft ring, the traditional flash point light source into a surface light source, as well as real-time extreme night vision to achieve such clear photos