vivo has made its mark for the most innovative, advanced photography features available on any smartphone. The vivo X50 series highlight photography features include professional quality gimbal systems and multi-camera setups.
These features aren't available on any phone in the same price range. Smartphone buyers looking for advanced photography and videography features would do well to look at the vivo X50 series. Discover why the vivo X50 is the most worthy-to-buy photography phone.
What Features Make vivo X50 Perform Excellent for Photography?
The vivo X50 series is vivo's contender in the premium smartphone contest, and it is pulling ahead of the competition.
With advanced performance and innovative features, the flagship X50 and X50 Pro are some of the most exciting new phones on the market. Once you look at the vivo X50 series highlight photography features, you'll see why it's the top phone of the year. Those features include:
Automatic 5G connectivity.
Gimbal camera system.
High-performance Snapdragon chipset.
Multiple video and camera modes for every situation.
Features that make it a professional photography mobile phone.
Sleek design and clear liquid display.
The X50 Pro allows you to create professional quality photos and videos. The 48MP gimbal main camera works with a 13MP professional portrait camera, an 8MP super wide-angle lens, 8 mm 5x telescopic lens and 32MP front camera. Here's a closer look at the vivo X50 Pro.
1. First Gimbal Camera System in a Smartphone
The vivo X50 Pro has a built-in gimbal tool. No other smartphone available to the public has this advanced photographic feature.
A gimbal is a professional photographer's accessory that allows the photographer to take pictures while in motion. A gimbal also helps take pictures of people and objects while they're moving. If you've taken blurred shots when you try to take pictures of sports events, dances and moving vehicles, you know how useful a gimbal is.
In the vivo X50 Pro, the gimbal uses artificial intelligence to achieve the same results. It works for both still photographs and video recordings. The gimbal system kicks in every time you use the camera.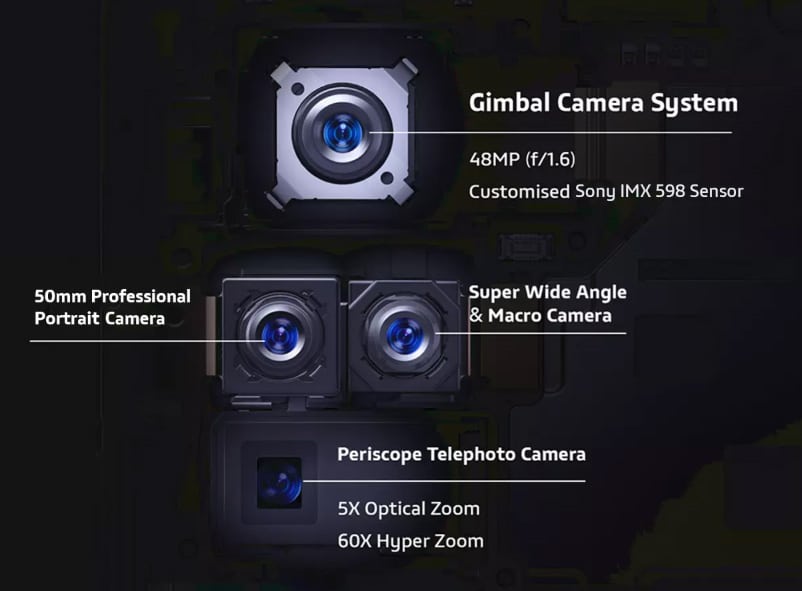 The gimbal system originally made the smartphone's design too thick, but vivo's engineers have restructured it to reduce the thickness. They create a smaller space for the gimbal without losing power. The final design combines form and function in a slim, elegant smartphone. It's clear to see why the X50 Pro is the most worthy-to-buy photography phone available today.
Everything You Need for Professional-looking Photos and Videos
The camera has several modes that make it easy to snap pictures in various situations.
Pro Sports Mode gives you extra sharp resolution of pictures taken while the object or person is moving.
Super Night Mode produces sharp pictures of nighttime landscapes.
Astro Mode allows you to take pictures of starry skies.
Style Night Filters add a bokeh effect to help you look your best.
Night Portrait delivers flattering portraits even in dim lighting.
The features don't stop there. The X50 Pro also has a built-in automatic focus that works for photos and videos. A multi-microphone system means your videos always have crisp, clear sound with 3D audio. Your videos will have professional quality sound and video resolution.
Gimbal Camera System Best Photography
Enjoy the best and the most stable photography experience on this 5G smartphone
Hyper Zoom gives you 5x optical zoom and 60x digital zoom to take in every detail. Hyper Zoom is the latest buzzword in smartphone photography, but only the vivo X50 Pro makes it a reality for every user. Hyper Zoom allows you to zoom in on the tiniest detail without losing resolution. Get sharp, clear images despite the distance.
3. Fast, Smooth Processing with Snapdragon 730G & 765G and Chipset
The X50 and X50 Pro both use Qualcomm processors to run at top speed without missing a beat. In the X50, the Qualcomm Snapdragon 730 octa-core processors mean you get long-lasting power, built-in artificial intelligence capabilities and smooth performance. The exclusive vivo Flash Charge, 90HZ refresh rate and an extra-large battery mean you'll never run out of power.
4. Elegant Design That Combines Form and Function
The X50 series is as beautiful on the outside as it is on the inside. These premium phones feature an elegant design with tiny punch holes, a 6.56-inch OLED display and curved corners. You'll enjoy the curved screen, sharp resolution and slender size of these luxurious-looking phones. The X50 series phones come in Alpha Grey, Glaze Black and Frost Blue.
5. Fast Charging and Refresh Rates
vivo X50 and X50 Pro phones give you long-lasting power that won't let you down. Spend the day working, playing games and taking professional-quality photos. Your X50 keeps working thanks to its huge battery and vivo's 33W FlashCharge 2.0. Get powered up quickly to keep your life and communications on track.
Photography, Refined
Most powerful 5G smartphone for photography
The vivo X50 is a Flagship Smartphone Series
With the vivo X50 series, vivo has set a standard for other smartphone providers to follow. The X50 series is a flagship mobile phone series for anyone who demands the best in a premium phone. With the X50 and X50 Pro, you get advanced processing, state-of-the-art photography features, instant 5G connectivity and powerful performance. If you want the best combination of form, function and features, consider the vivo X50 and X50 Pro.