MANILA, PHILIPPINES – In an electrifying display of youthful energy and enthusiasm, vivo, the official smartphone partner of the National Basketball Association (NBA), kicked off the first leg of its much-anticipated vivo School Tour at Lyceum University of the Philippines on September 29, 2023.
The highlight of the event was the riveting 3 on 3 basketball challenge, where six teams from Lyceum competed fiercely and two teams won for the honor of representing their school at the Grand Finals scheduled for November. The exhilarating competition showcased the passion and sporting prowess of the students, as they dribbled, dunked, and displayed their basketball skills.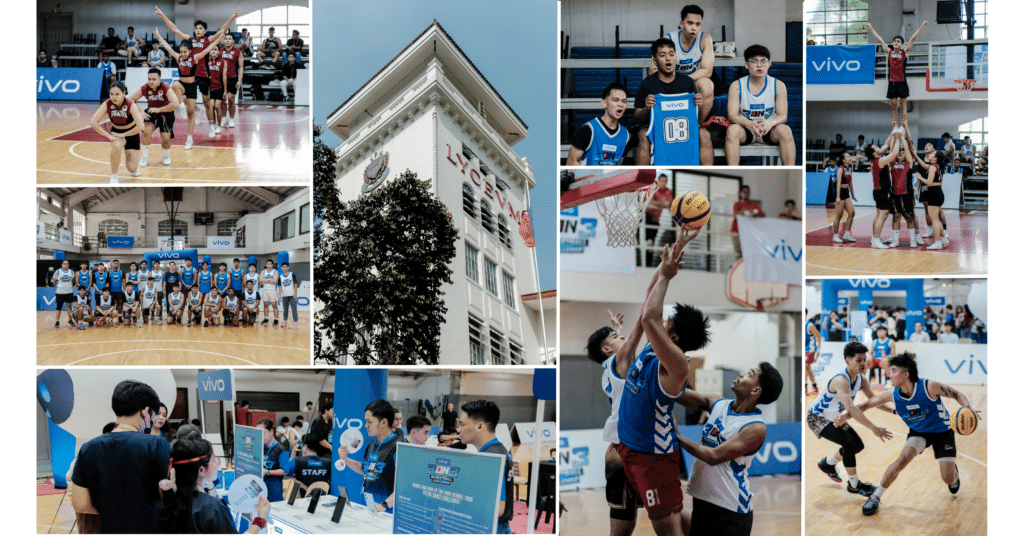 But the excitement didn't stop there. The event also featured lively TikTok dance competitions, bringing out the students' creativity and flair for entertainment.
vivo also took the opportunity to introduce the vivo Club, a platform where students can sign up to receive various perks and benefits. These include exclusive internship opportunities, invitations to exciting events, team-building activities, and other exciting experiences. Registration is now for all students nationwide. 
Adding to the thrill of the event, vivo set up an experiential table for its latest devices, including the vivo V29 5G, Y36, Y27, and Y02t. Attendees had the chance to explore and experience these cutting-edge gadgets firsthand.
The vivo School Tour is a testament to vivo's commitment to promoting a healthy and active lifestyle among the youth. Through sports and entertainment, vivo aims to engage and inspire young individuals to lead an active and fulfilling life.
Glenn Chiu, vivo Assistant Brand Marketing Manager
"Our goal is to bring together university students from all courses, and use the power of sports to improve their well-being," said vivo Assistant Brand Marketing Manager Glenn Chiu. "Today's vivo 3 on 3 basketball challenge is about fostering camaraderie, teamwork, and personal growth."
About vivo School Tour
The tour is set to continue its journey to five other prestigious universities, spreading the spirit of competition and camaraderie. 
The upcoming schedule includes stops at the University of the Philippines Diliman on October 7, Jose Rizal University on October 12, National University on October 18, De La Salle University College of St. Benilde on October 25, and De La Salle University on November 8.
The winning teams from each school in the 3 on 3 basketball challenge will earn the privilege of representing their institution at the grand finals. Mark your calendars for November 18 and 19, 2023, when the Grand Finals will take place at the Music Hall in SM Mall of Asia.
Follow vivo Philippines on Facebook, Instagram, YouTube, Twitter, and TikTok for the latest news and announcements. Get the vivo V29 5G, Y36, Y27, and Y02t in e-stores such as Shopee, Lazada and TikTok, as well as physical stores nationwide.
vivo is a technology company that creates great products based on a design-driven value, with smart devices and intelligent services as its core. The company aims to build a bridge between humans and the digital world. Through unique creativity, vivo provides users with an increasingly convenient mobile and digital life. Following the company's core values, which include Benfen*, design-driven value, user orientation, continuous learning, and team spirit, vivo has implemented a sustainable development strategy with the vision of developing into a healthier, more sustainable world-class corporation.
While bringing together and developing the best local talents to deliver excellence, vivo is supported by a network of R&D centers in Shenzhen, Dongguan, Nanjing, Beijing, Hangzhou, Shanghai, and Xi'an, focusing on the development of state-of-the-art consumer technologies, including 5G, artificial intelligence, industrial design, imaging system, and other up-and-coming technologies. vivo has also set up an intelligent manufacturing network (including those authorized by vivo), with an annual production capacity of nearly 200 million smartphones. As of now, vivo has branched out its sales network across more than 60 countries and regions and is loved by more than 400 million users worldwide.